Let's indulge in some Holiday treats!

Today let's talk about tasty menus, the article about the Comité Tricolore in the press, and why not share the indulging with others through tasty gift cards!
---
Tasty Menus
Holiday menus are available at our partner restaurants, so let's treat ourselves this week, we all deserve it!
Check out these menus, order, and pick them up or have them delivered from:
Bastille Brasserie in Alexandria has Christmas and New Year's Eve menus.
Opaline Brasserie; in DC has Christmas all day dining and New Year's Eve menus.
Macon Bistro & Larder in DC has a Holiday Take Home menu.
La Côte d'Or in Arlington has been booked for some time for Christmas, but of course you can still reserve for New Year's Eve.
The Ottoman Taverna in DC is open on Christmas Eve and Christmas Day and has a New Year's Day brunch.
You can order from the Lebanese Taverna Restaurant Group in Maryland and Northern Virginia.
Convivial in DC has prepared menus for Christmas and New Year's Eve.
2941 Restaurant in Falls Church offers Holiday carry-out menus.
Chef David of Unconventional Diner in DC proposes a take-out holiday feast inspired by traditional Christmas dinners in France.
Brasserie Liberté in Georgetown is open for pick-up on Christmas Eve and Christmas Day with menus for New Year's Eve as well.
And of course we need a Buche de Noël! Fresh Baguette has an amazing choice of five different flavors.
---
I Love My Chef in the press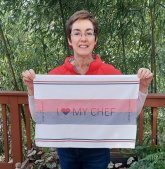 Lesfrancais.press published an article (in French)
"I Love My Chef" - Le Comité Tricolore se mobilise pour les restaurateurs aux USA.
They met with Eve Chauchard, the president of the Comité Tricolore, to discuss the "I Love My Chef" operation, "Bleu Blanc Rouge" napkins, French and American colors, to support our Chefs.
Watch how these napkins are Made in France.
And you might have a need for more of these napkins/kitchen towels as the new year goes by and we start again having large gatherings at home! You can find them as part of Garnier-Thiebaut USA's charity program.
---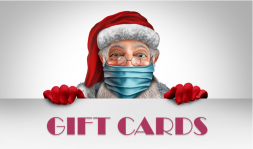 Play Santa and offer Gift Cards from our Partners.
A great gift for the holidays to be redeemed as soon as it is safe to enjoy life as it should be!
Choose from our partners' page