---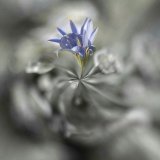 Let's see what is going on
If you don't want to get out
Our sponsors warm us up
Expressions Françaises: "il fait un froid de canard"
---
It is cold outside, but our members offer us many options to beat the winter blues!
---
Let's see what is going on
Our region has so much to offer, in terms of culture, gastronomy and…adventure that even the coldest days are not sufficient reason to hibernate.
You can go to the movies at the Maison Française every Tuesday night through March 1st.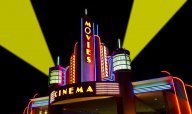 The French Embassy is celebrating the French Presidency of the European Union with the screening of movies that have been produced or co-produced in Europe.


February 15, 7 pm - Proxima, directed by Alice Winocour, 2019
Sarah is a French astrophysicist who is about to leave the earth for a one-year mission. Proxima describes the difficulty of having at the same time the head in the stars and the heart on earth, with loved ones.
In French with English subtitles
February 22, 7 pm - Adults in The Room, directed by Costa-Gavras, 2019
A Franco-Greek co-production, Adults in the Room, adapted from a book by Yánis Varoufákis, is a political thriller exploring the issues the Greek crisis has brought to light within the European institutions.
In Greek, English, and French with English subtitles
March 1, 7 pm - Les Rendez-vous d'Anna, directed by Chantal Akerman, 1978
An autobiographical drama co-produced by West Germany, Belgium and France tells the story of Anne Silver, a Belgian filmmaker who is is traveling through these countries to promote her new film.
In French with English subtitles
Please note that in order to attend this event, full vaccination of 3 doses, or 2 doses and a negative test of less than 36 hours, will be required as well as an ID. Masks are required throughout the screening.
---
If you don't want to get out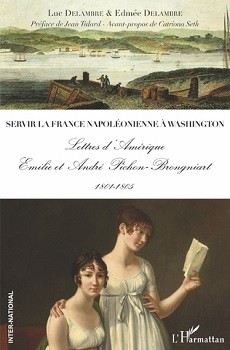 Join the Alliance Française de Washington on February 5, 2022 at 2pm and meet Luc Delambre, live from France, to discuss his new book.
In the early 1800's, André Pichon and Émilie Brongniart married and left for the United States where André had just been appointed as a diplomat by Napoleon Bonaparte. Their paths cross those of Jefferson, Madison, Dupont de Nemours, Lafayette, Talleyrand, Toussaint Louverture, Napoleon Bonaparte and his younger brother Jerome.
The main source of the book is an exceptional correspondence, carefully archived by the family, which has been entirely transcribed and analyzed to link it to the events of the time.
This archive allowed descendants Luc Delambre and his mother Edmée Delambre to revisit American history in the first five years of the 19th century.
Click here to register. This virtual event will be entirely in French.
---

You can follow the Dejeuners du Mercredi conferences of the Eglise Protestante Francophone de Washington DC every week at noon.
It is a great way to improve your French on a variety of topics:
Feb 2nd: "Astrophysique et religion" with John Siegmund
How do astrophysical discoveries challenge religious beliefs?
Feb 9th: "The Grand Canyon by raft, a grandiose adventure!" with Eve Chauchard
Thirteen days rafting on the Colorado river, twelve nights under the stars, 150 rapids and, between the rapids, time to contemplate the masterpiece of nature that is the Grand Canyon!
Feb 16th: "1001 questions about God, the Bible and Christians" with Noé Walter, pastor and theologian
The Bible is the best-selling and most widely read book in the world, yet many preconceived ideas, fantasies and approximations remain, even among Christians!
Feb 23rd: "What is a podcast ?" with Benjamin Bories, animator and producer of podcasts
What is a podcast? How is it different from traditional radio? What is the future of this medium?
---
Enough with culture, let's talk about beating the Winter Blues with food and great company
The French American Chamber of Commerce Celebration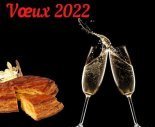 Wishing "Meilleurs Voeux pour la Nouvelle Année" in France is not just something you do on January 1st. French people wish a "Happy New Year" during the entire month. The French American Chamber of Commerce (FACC) invites you to a special new year celebration on February 11, 2022.

Chef Hughes Cossard, owner of FoodExpression, who also manages our culinary network: "Reseau des Metiers de Bouche", will demonstrate how to make the famous Galette. There will also be a degustation of Jambon de Bayonne, the cured ham from the Basque region of France, and many more dishes and wines to taste.
Register on EventBrite and take the opportunity to network with fellow Francophiles, French VIPs, diplomats, professionals and business people at the Maison Française in the French Embassy.
---
Dinner at Brasserie Liberté
We have prepared another treat for you on Monday February 21, at 6:30 pm
Join us for a delicious dinner at Brasserie Liberté in Georgetown, where traditional French meets modern luxury!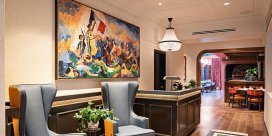 Brasserie Liberté is a modern French destination with an American twist located in the heart of Georgetown. Their menu reflects the comfort food of both cuisines served in a cozy and laidback setting.
Chef Matt Cockrell brings his French charcuterie talents and advanced knowledge of French cooking to the brasserie: Escargots de Bourgogne... Steak au Poivre... Ratatouille.... Crême brulée, these are just a few choices on the curated menu prepared especially for us.
Reserve your table rapidly on EventBrite as only 34 tickets are available at the price of $80 per person, which consists of $55 for your meal (tax and tip included, drinks excluded) and $25 as a donation to the Comité Tricolore.
Starting January 15th, in order to get into a restaurant in Washington DC, you need to show proof of vaccination.
---
Our Sponsors warm us up
Our sponsors warm us up, literally and figuratively.


During our highly successful dinner at Convivial restaurant, Chef Cedric Maupillier had prepared a beautiful Menu for us and a Galette des Rois.


Our sponsor LR-Paris offered a gift to each King or Queen: plaid blankets and teacups to keep warm!


Garnier Thiebaut USA brought gifts as well and as always we could not organize all the great events without the help of Garnier Thiebaut's Jean -Philippe Krukowicz.
We are grateful to our sponsors who give their time and energy to help us in our mission: especially our outgoing Treasurer Michel Laudier of Weichert Realtors who has been succeeded by Kevin Brunet of our sponsor company Jade Fiducial.
---
Les Expressions Françaises:
"Il fait un froid de canard!" (It is cold as a duck)
The most probable origin of this expression comes from duck hunting season in the winter: as the website expressio.fr indicates "the hunter must remain motionless, on the alert, and let the cold penetrate him to the bone while waiting for one of his poor victims to come close enough to have a chance to end up in a confit or other culinary preparation."
So "le froid de canard" is at the origin of the confit de canard which gives us the necessary nutrients to survive the cold winter days...we are coming full circle here!
---