Celebrating Together is definitely another of the Comité Tricolore's CT acronyms!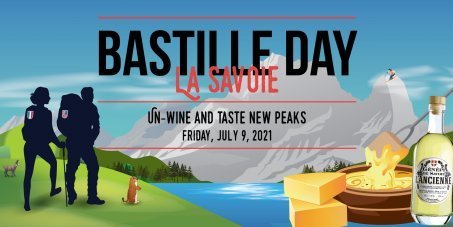 ---

Celebrate Bastille Day with us
Un-wine and Taste New Peaks
Spotlight on a Sponsor: Miorini Law
Save the Date for our next Solidarity Dinner
---
Celebrate Bastille Day with us!
Join us at the French Embassy July 16th at 7 pm.
We have planned a seated exclusive dinner with a reduced number of guests.
Be part of the Embassy reopening and take advantage of our early bird tickets as they will sell out fast! You can purchase them on Eventbrite.
This year's theme is La Savoie - the heart of the French Alps, a beautiful and culturally rich area of France.

Just to tempt you, here are the details of the festivities:
The sit-down meal for 175 people will be served and you will be seated according to your reservations at tables of 2 to 10 people in order to respect the Covid-19 safety protocols of the French Embassy and the City of Washington, D.C.
You should arrive around 7 pm and will be offered a glass of champagne and served a tasting of dishes of the Savoie region and much more.
So yes, Un-Wine and Taste New Peaks!
Meanwhile you will have a chance to glance around the items in the silent auction and bid on those you want to take home.
For your entertainment, we will have a Live Band until 10 pm.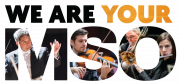 AND an Operette by Offenbach, a 20 minute act with two singers and Simon Charette at the piano, curated by Julien Bénichou, Maestro of the Mid-Atlantic Symphony Orchestra.
In short:

• Champagne Welcome
• Sit Down VIP Dinner with Wine included
• Live Band until 10pm
• Operette Act curated by Maestro Julien Bénichou
• Participation in our Silent Auction
• Dress Code: Cocktail Attire.
---
Un-Wine and Taste New Peaks !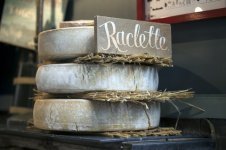 You will enjoy local specialty dishes unique to La Savoie, among which a special tasting of a "Raclette".
The best local Chefs have prepared a delicious selection of dishes that you will enjoy with wine.


Among the Chefs you will recognize:
Chefs Gerard Bertholon , Olivier Gayet of Cuisine Solutions
Chef Cédric Maupillier of Convivial
Chef David Deshaies of Unconventional, Ardente and Central
Chefs Michelle et Christophe Poteaux of Bastille Restaurant
Chef Michael Cornu of Cornu Tradition
Chef Claudio Pirollo of Et Voilà
and more...


You will have a chance to meet the Chefs who will present the dishes they prepared for the evening.
Stay tuned and we will let you know soon what specialty dishes they are creating. We can already tell you that there will be Crozets, Reblochon, Potée Savoyarde, etc.
Keep in touch by going to our special Bastille Day page.
This event is our only fundraising event of the year and we need it to be a great success in order to continue our charitable mission.
Tickets:
Early Bird General Admission: $150.00
General Admission: $200.00
Couple General Admission: $360.00
Benefactor: $500.00
Couple Benefactors $950.00
You can purchase them on Eventbrite.
The Comité Tricolore (Tricolore Committee) is a 501(c)(3) non-profit organization and will send you a receipt for the tax deductible portion of your participation.
We are grateful to Delsey and Calvert Woodley for supporting this event.



---
Why not become a sponsor of our Bastille Day event?
There are two ways you can help us to fulfill our mission.
You can participate in our event in the form of a donation to either our silent or online auction.
By participating in either the silent or online auction for Bastille Day, your company agrees to supply the Comité Tricolore with a good or service to be auctioned off. Your generous donation will assist the all-volunteer committee in its mission, as well as serve as a platform to promote your organization.
You can be featured in our exclusive VIP event itself.
By joining as a sponsor and being part of our network you can reach several thousand active and influential people within Washington DC, and support our activities by making a tax deductible donation.
For more information on sponsorship opportunities contact: sandrika@unitedfray.com
---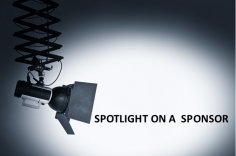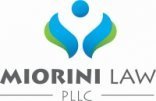 Serving clients
in VA, DC and MD
Miorini Law
---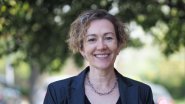 Miorini Law, PLLC is dedicated to serving individuals and families concerning wealth preservation, tax planning and long-term care needs in the United States and abroad.
Yahne Miorini
Yahne, founder and principal, emphasizes the human element and seeks to foster long term family stability and efficient governance.

Her practice focuses on:
Domestic and international estate planning
Probate
Trust administration and related tax matters
Elder law (guardianship, conservatorship, special needs, and long-term care)
Veterans Benefits.
For more information on these topics, you can register for the free seminars being held on the first Saturday of every month entitled: "Estate Planning in Plain English" and "Protecting you from nursing home costs".
Contact Yahne at: Yahne@MioriniLaw.com
or go to the Miorini Law website.
---
Our next Solidarity dinner is June 22nd at Del Ray Cafe
Get tempted by the great menu prepared by Chef Laurent Janowsky and reserve your seats on Eventbrite.
More details are available on our website events page.
Participation in these dinners is a great way to get to better acquainted with the DC area restaurant scene and its great Chefs. To see how much fun we have had during our previous events browse through our Photo Albums.
The price of the ticket is $70, which includes the price of the meal especially created for us plus a donation to the CT which goes entirely to one of our beneficiaries and is tax deductible.
---
Check our website for more exciting things to do!
Our members are increasingly active and we are updating our Agenda almost daily so that you don't miss any opportunity to connect and have fun!
For more information go to our Agenda.
---