---

Don't Miss this Month's Francophonie Festival,
Your New Favorite Holiday: Bastille Day,
and our Members' March Agenda!
---
Save the Date for Bastille Day!
July 10th, 2020 at the French Embassy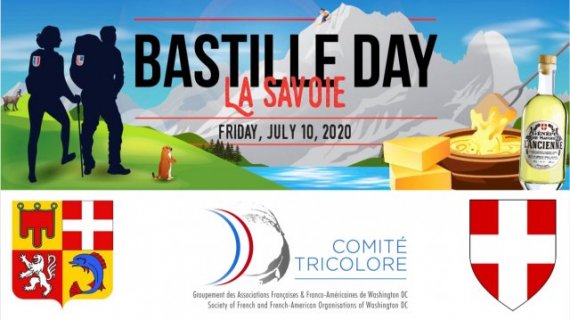 Join us to experience La Savoie, the heart of the French Alps.
Step into an immersive experience and get transported miles away by enjoying unique dishes like Fondue combined with regional wines.
Can you find poetry in this list of words and are you curious to learn and taste?:
Génépy, Reblochon, Beaufort, Tomme, Roussette, Mont Blanc, Apremont…..
During the evening, guests will enjoy a night of music, champagne, and an exceptional selection of special dishes prepared by the best local Chefs from some of the area's most prestigious restaurants, hotels and pastry shops.
Meet local star Chefs who will present their best dishes from La Savoie.
600 refined attendees - 20 restaurants - 80 silent and live auction donors - raffle
Open bar until 9:30 pm with wine and cocktails
(cash bar after 9:30 pm)
Live Band and DJ
Unique immersive experiences on the outdoor terrace
Partner booths
Celebrate and Register on EventBrite
---
Join Us and Become a Sponsor
Be part of our network which spans several thousand active and influential people around Washington DC.
For sponsorship opportunities contact Sandrika Berthias at sandrika@unitedfray.com
or Jean-Philippe Krukowicz at jp@gtlinens.com
The proceeds from Bastille Day are used for charitable purposes and the Tricolore Committee is a 501(c)(3) organization.
---
The March D.C. Francophonie Cultural Festival is in full swing!
The Festival demonstrates the diversity and richness of the French language, one of the largest linguistic zones in the world. and showcases the Francophone communities around the world, from Africa, to the Americas, to the Middle East.
Many of our Members and more than 40 embassies and partners are collaborating to present a variety of events through: concerts, cuisine, films, literarture, and lectures.
To find out more, go to our website's agenda where you will find the links to register: there is an extensive program all month long

Created in 1970 The International Organization of La Francophonie's mission is to demonstrate the solidarity between its 80 member states and governments who, beyond sharing a common language, convey the humanist values promoted by the French language.
A taste of what is coming up, just this week:
Tuesday, March 3, 2020 - 7:00pm-9:00pm
African Legacy Film Series: Le Franc & La petite vendeuse de soleil
Embassy of France
Wednesday, March 4, 2020 - 6:30pm-9:30pm
Film: Junior Majeur
Alliance Française DC
Thursday, March 5 , 2020 12:00pm-1:30pm
Tours in French at the National Museum of African Art
National Museum of African Art
Friday, March 6, 2020 6:30pm-9:30pm
Play Reading: Leaving Hell
Alliance Française DC
March 7 and 8, 2020 1:00pm-2:30pm
Tours in French at the National Museum of African Art
National Museum of African Art
Also the AFI Silver Theatre and Cultural Center in Silver Spring is presenting the New African Film Festival in partnership with Africa World Now Project and afrikafé, from March 5th to 19th.