Appreciations and Recognitions
Beating Inflation
Holiday Solidarity Dinner…at Equinox
Giving Tuesday or Giving Anyday
Expression Française : Donner un coup de collier
---
Appreciations and Recognitions...in pictures!
The month of November is about Thanks Giving, therefore we are thrilled to celebrate those who have made a difference in our community by their constant support and generosity.
France's National Order of Merit: Marie-Hélène Zavala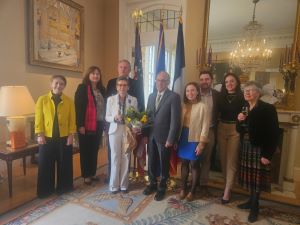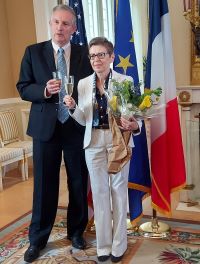 Ambassador Bili awarded Marie-Hélène Zavala, France's National Order of Merit on November 17th at the Résidence de France in the presence of friends and family from here and abroad. This award is to honor her many years of dedication to the cultural and charitable activities of Washington's French community.
Marie-Hélène is part of the Comité Tricolore's events Planning committee and a critical link to our outreach events, especially Bastille Day.
She has been Director of Social Events at the Résidence de France and La Maison Française since 2019, after many years as the outreach and events manager of the Maison Française.

She also participated in the creation of the Kids Euro Festival, of which she was the first director and is also responsible for the coordination of the Festival de la Francophonie.
---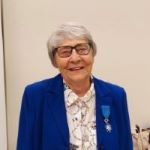 France's National Order of Merit: Jacqueline Abrams
For almost 60 years, Jacqueline Abrams has volunteered, with a smile and kindness, for both French and American associations. She is better known as "Mother Christmas" as she collects all year long toys that are then distributed to children.

She received this award from the hands of Yahne Miorini, herself a National Order of Merit recipient.
---
Victor Obadia Humanitarian Trophy recipient: David Deshaies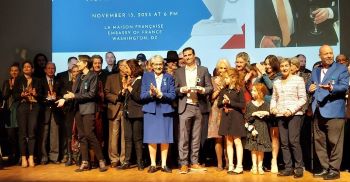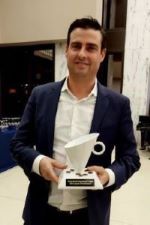 This year's recipient is David Deshaies for his constant dedication carrying on the French tradition of providing food as a way to offer comfort and support during difficult times.
Chef David Deshaies was a great friend to Victor Obadia and has supported the Comité Tricolore's charitable mission for two decades.
Victor Obadia's daughter Stephanie, gave a moving tribute to David and his long association with her father.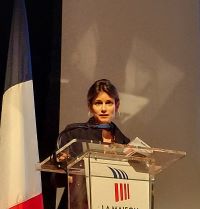 Since his arrival in the DC area he has always devoted his personal time to numerous charities including St Jude's Hospital and Bread for the City.

The Award Ceremony was held on November 13th at the French Embassy. France's new Consul General, Caroline Monvoisin kindly opened the ceremony.
---
Beating Inflation
We are doing our share to beat inflation!
Our beneficiaries spend the major portion of their income on essentials like food, utilities, and housing, and inflation has disproportionately affected them as they struggle to afford basic necessities.
Every month we give support to individuals and families in extremely difficult situations: some with disabled children, some with severe emotional distress who have nowhere else to turn…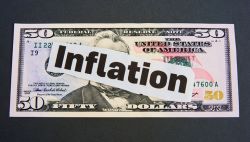 We have therefore increased the amount we send them every month to try to mitigate inflation's impact.
We have been receiving more requests for short-term help so that individuals in need can get back on their feet.
We cannot and have not turned down any cry for help. Based on the Solidarity Subcommittee's review of the requests we have continued to sustain our social responsibility.
We depend on your generosity to maintain this commitment.

---
Holiday Solidarity Dinner…at Equinox
Tuesday December 5th at Equinox restaurant's brand new location on 19th St!
Come celebrate the Holidays with us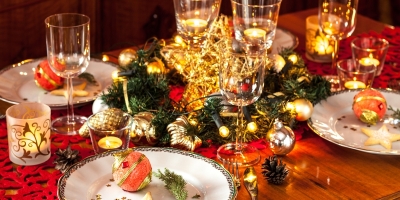 Since 1999, five-time James Beard Award nominee Chef Todd Gray, and his wife Ellen Kassoff have been committed to serving their distinct interpretation of mid-Atlantic, regional, and seasonal cuisine.
Equinox's hyper-local devotion to their community, their producers, their customers, and their employees have defined Equinox as one of DC's most progressive fine dining establishments.
Chef Todd Gray has curated for us a dazzling five-course Holiday Dinner menu!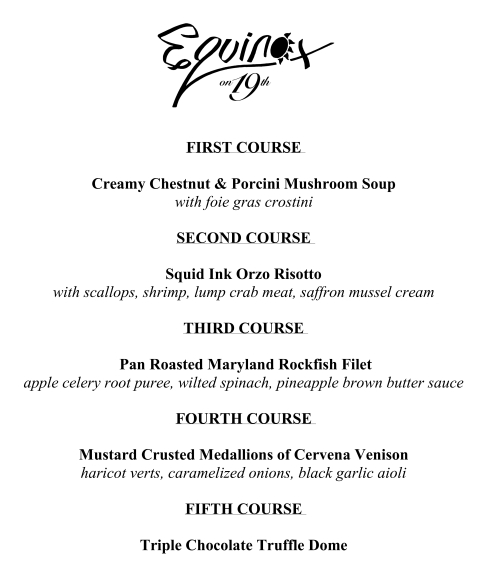 40 tickets are available at the price of $ 100 per person (tax and tip included, drinks excluded)
For this Dinner, no donation to the Comité Tricolore has been added to the ticket price. The price of the ticket represents the price of the meal. When you get your ticket, you will have an opportunity to add a tax-deductible donation to the CT which will go entirely to our beneficiaries. We are counting on your generosity for this end of the year event to help us continue our charitable mission.
Click here to reserve a seat at our Equinox Holiday Dinner
---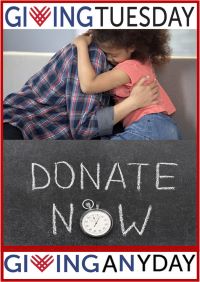 Giving Tuesday or Giving AnyDay
The concept of giving is not limited to just one day. Generosity and philanthropy should not be confined to a specific date. Why not give and contribute to meaningful causes whenever you feel moved to do so…
maybe today?
The spirit of giving can be embraced at any time.

---
Les Expressions Françaises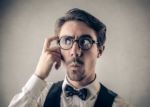 "Donner un coup de collier"

To pull on the harness
To force oneself into doing something hard


This expression dates back to the thirteen century word for harness, then called a collar. Today "colliers" (necklaces) are therefore nothing more than the horse's adornment!
It has been used since the 18th century to describe an intense effort, at a time when horses were equipped with a harness to pull heavy loads.
"Donner un coup de collier" is a strong, self-motivated effort to force oneself to do something difficult.