Le "Déjeuner sur l'Herbe" est un grand déjeuner en plein air, organisé chaque année par le Comité Tricolore pour la communauté française de Washington, dans les jardins, et sur une invitation de l'Ambassade de France. Il est ouvert à tous.
Cette année en association avec notre membre, le National Club de Pétanque.
Prenez vos billets pour ce délicieux déjeuner familial en plein air (sauf mauvais temps) avec une excellente animation de musique "Blue Grass" des Red Line Ramblers. Jeux pour les enfants et les adultes!
Réservations sur Eventbrite: https://www.eventbrite.com/e/billets-dejeuner-sur-lherbe-a-lambassade-de-france-715446990207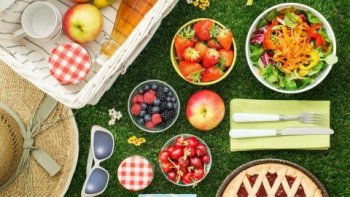 Le dimanche 22 octobre 2023 de 12h à 16h. Fin du service à 14h00. Nous serons à l'intérieur s'il pleut.
Au menu: Plat chaud, salades variées et desserts, cafés, boissons sans alcool et vins français au cash bar (au verre ou bouteille).
Rencontres avec les associations françaises et franco-américaines de la région de Washington, membres du Comité Tricolore.
Jeux et animations pour les enfants: ping-pong, pétanque (Bocce), badminton, jeux de société, coin lecture.... et activités pour les plus petits.
De l'excellente musique "Blue Grass" live, avec "The Red Line Ramblers" https://www.facebook.com/RedLineRamblers/
Activités ludiques (dessins, autocollants & coloriages).
Nous avons prévu des mini-frais de participation afin de réunir le plus grand nombre d'entre vous !
$25 par adulte - $15 moins de 12 ans - gratuit pour les moins de 5 ans.
Merci de faire un don au Comité Tricolore si le pouvez afin de nous permettre de continuer à aider les Français de la région dans le besoin. Vous aurez cette possibilité en prenant vos billets.
Réservations sur Eventbrite: https://www.eventbrite.com/e/billets-dejeuner-sur-lherbe-a-lambassade-de-france-715446990207
---
---
Reminder! Only a few days left before the wonderful Alsacian Soirée organized by our member, Alsace Washington DC Association!
Alsace Washington DC Association invites you to an exciting soiree with a presentation about renowned artist, illustrator and writer Tomi Ungerer and his beautiful native region of Alsace, followed by a traditional tarte flambée dinner.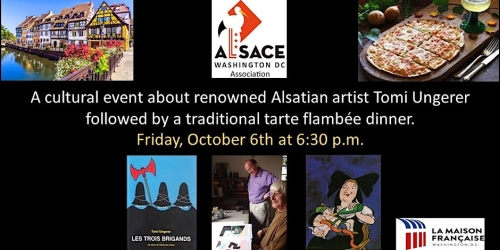 Guest speaker: Robert Walter, President of the International Association of Tomi Ungerer's Friends.
Alsatian dinner:
Appetizer: Crudités salads and Paté en Croute
Tarte Flambée, family style: a flatbread style specialty, with cream, bacon and onions
Dessert: Alsatian Apple Pie
One glass of Alsatian white wine or soda. Water will be provided. A cash bar will be available to purchase additional drinks.
Music: traditional music from Alsace will be played.
Register: https://www.eventbrite.com/e/alsace-soiree-culture-dinner-at-the-french-embassy-tickets-709972305277
Adulte : 65$
Enfant (12 ans et moins) : 45$
Tarif réduit pour nos membres :
Membre d'Alsace Washington DC Association - Adulte : 50$