Pierre de Coubertin's re-creation of the Olympic Games to use sport as a means to promote universal values is one of the ways to foster cultural interactions between countries, and so are the actions of our member the American Association of Members of the French Order of Merit. (AAMFOM).
---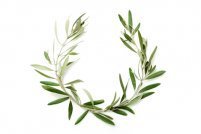 The Americanophile Pierre de Coubertin
Did you Know? Olympic Games Trivia
Spotlight on AAMFOM
Let's meet at Brasserie Liberté
Expressions Françaises: "faire un carton"
---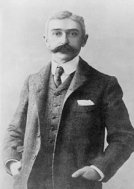 The Americanophile Pierre de Coubertin
Baron Pierre de Coubertin was born in Paris on January 1, 1863. An athlete who practiced many sports from boxing to horse back riding, rowing and pistol shooting, for which he won several French championships, he could have participated in bi/tri and many more athlons!


He made two trips to the U.S. in his twenties. Already influenced by the British educational system, these trips made a lasting impression about the formative importance of sports, which was missing in French education. He then worked with the French Ministry of Education to reform the system.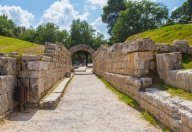 With the German excavation of Olympia in Greece the idea was in the air to recreate the ancient Olympic Games which had been organized every four years for twelve centuries. Ten years after his U.S. trips, in 1894 during the "Congress for the Re-instatement of the Olympic Games" he founded the "International Olympic Committee" (IOC).
From what had been perceived as an elitist form of education in British sports federations, the Congress voted to include participants from all social backgrounds, including workers, which was more in line with American and French egalitarian ideals.
---

Olympic Games Trivia
Why Paris in 2024?

The 1924 games in Paris will be a double anniversary celebration.
The first modern Olympic games took place in 1896 in Athens, then in Paris in 1900 and 1924. 1924 was also the year of the creation of the first Winter Olympics in Chamonix, France.
Where do the Olympic motto and creed come from?
They are not from Coubertin. The Olympic motto "Citius, Altius, Fortius - Communiter" is from one of his friend's, the Dominican priest Henri Didon. "Communiter" was added in 1990: "Faster, Higher, Stronger – Together".
The Olympic creed: "The important thing in life is not the triumph, but the fight; the essential thing is not to have won, but to have fought well" is not from him either, but from the Bishop of Pennsylvania, Ethelbert Talbot, during a sermon given at the Games of London in 1908.
Amateurs or professionals?
Pierre de Coubertin's ideal of seeing the games reserved for amateurs held on until 1981 when the IOC accepted the admission of professional athletes.
Why was he voted out of the IOC in 1925?
Pierre de Coubertin was known for his misogyny, which is one of the reasons he was voted out in 1925 and resigned from the IOC. He said: "We believe that the Olympic Games should be reserved for men. A female Olympiad would be uninteresting and unaesthetic".
From fame to ruin
Pierre de Coubertin spent his later years taking care of his mentally handicapped son. He died ruined and sick. His body is buried in Switzerland, his heart at Olympia in Greece.
---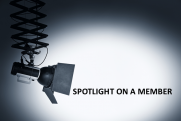 American Association of Members of the French Order of Merit (AAMFOM)
---
The mission of AAMFOM is to fund specific projects that can be carried out quickly, without intermediaries, both in the United States and throughout the world, while promoting, if possible, French-speaking communities.

AAMFOM members are either residents and/or citizens of the United States who have been decorated by the French Government with the French 'Ordre du Mérite', as well as supporters of the association.
Founded in January 2008 by the late Victor Obadia, AAMFOM's goal is to foster the values of civic duties and fraternity. It is also funding projects in collaboration with the Comité Tricolore.
From convictions to actions.
AAMFOM has been funding a wide range of projects, determined by local needs
Go to their website to watch videos of actual projects.

 In Haiti - Providing computers for school children; give internet access via a solar powered installation; building latrines


 In Mali - Donating funds to support local seamstresses in making 90 backpacks


 In Cameroon - Financing the construction of this 7 meter high water reservoir including solar panels


 In Rwanda - Building new desks for COVID-19 distance spacing; building of a cistern and toilets


 In Columbia - Repairing the roof of an orphanage


 In Lebanon - Providing computers so children whose families lost everything in the blast follow their classes online.


 In Niger - An orphanage in Niamey was in desperate need to repair its school desks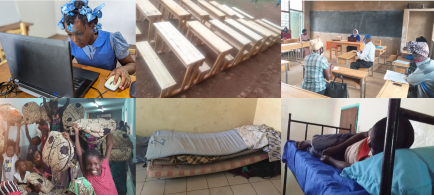 For a description of an AAMFOM project, its purpose, its cost, its timeframe, do not hesitate to contact AAMFOM's President Etienne Dailly.
---
Let's meet at Brasserie Liberté
We have prepared another treat for you on Monday February 21, at 6:30 pm
Join us for a delicious dinner at Brasserie Liberté in Georgetown, where traditional French meets modern luxury!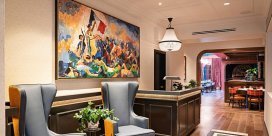 Brasserie Liberté is a modern French destination with an American twist located in the heart of Georgetown. Their menu reflects the comfort food of both cuisines served in a cozy and laidback setting.
Chef Matt Cockrell brings his French charcuterie talents and advanced knowledge of French cooking to the brasserie: Escargots de Bourgogne... Steak au Poivre... Ratatouille.... Crême brulée, these are just a few choices on the curated menu prepared especially for us.
Reserve your table rapidly on EventBrite as only 34 tickets are available at the price of $80 per person, which consists of $55 for your meal (tax and tip included, drinks excluded) and $25 as a donation to the Comité Tricolore.
Starting January 15th, in order to get into a restaurant in Washington DC, you need to show proof of vaccination.
---
Les Expressions Françaises:
"Faire un carton" (Achieve great victory)

This could have been Pierre de Coubertin's motto as a pistol shooter! The origin of this expression comes from the games played at fairgrounds by trying to hit the center of a cardboard target.
From this expression comes a slang verb: "cartonner" which means to succeed above all expectations.
---