"This will be our reply to violence: to make music more intensely, more beautifully, more devotedly than ever before." - Leonard Bernstein
The Comité Tricolore dedicates this newsletter to the French and Americans who are part of the musical world of the Washington DC area with the hope for a swift return to a peaceful future in Ukraine.
---

Ukrainian Music
The Comité Tricolore's involvement in Washington Music
The World of Music in our area
Did you Know? The world's largest pipe organ is in Atlantic City
Expressions Françaises : "la musique adoucit les mœurs"
Informations concernant les elections en France
---
Celebrating the arrival of Spring with Ukrainian music
Let's go to Ukraine to start the theme of this newsletter by listening to two songs that celebrate the arrival of warmer days.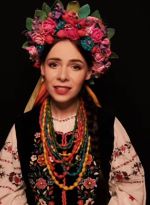 Our famous Christmas carol "the Carol of the Bells" is originally a very old Ukrainian folk song "Shchedryk", which talks about a bird proclaiming the arrival of Spring during a celebration that was held in early April.
Click on this link to listen to the original version.
The other is a traditional song "Oh, In the Cherry Orchard" which reminds us of the Washington Cherry Blossoms that are supposed to peak this year around March 22nd to 25th.
Click here to listen.
Our member the Arlington Sister City (ASCA) Reims Committee wants to extend its support to ASCA's other sister city Ivano-Frankivsk and to its Ukrainian friends and families.
---
The Comité Tricolore's involvement in Washington Music
Faust at the French Embassy

Our members La Maison Française and Julien Benichou, President of the Amicale des Musiciens Francophones de Washington D.C. and newly appointed artistic director of the Washington Opera Society present Faust at the French Embassy on March 18th at 6pm.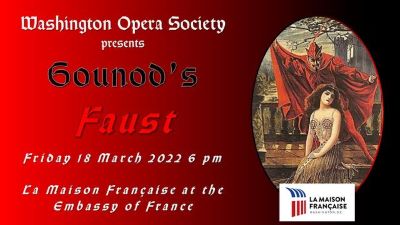 It will be narrated by Meghan McCall & Stefan Lopatkiewicz who prepared an introductory video on YouTube.
Click here for more information and tickets.
Amicale des Musiciens Francophones de Washington DC and Julien Benichou
To find out more about the Amicale des Musiciens Francophones de Washington D.C. see the article in our newsletter "Past and Present Meet".
Since February 1, Julien Benichou has been entrusted with the artistic and executive direction of the Washington Opera Society (WOS).

The WOS is a non-profit organization which presents opera productions and concerts in embassies, diplomatic residences and other private venues in the Washington, DC area. Simon Charette, former assistant artistic director, is now general manager of the WOS.
Julien Benichou has been Music Director of the Mid-Atlantic Symphony Orchestra for 15 years, of the Chesapeake Youth Symphony Orchestra and of the Southern Maryland Youth Symphony Orchestra. He will be at the Théâtre des Champs-Élysées on April 7th for a concert tribute to Camille Saint-Saëns commemorating his 100th death anniversary.
The Alliance Française Music Education program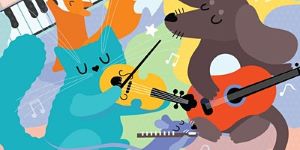 Music is part of a healthy education and the Alliance Française has an ongoing program for children: the "Online kids' concert with Achille!' with traditional French songs during a fun, immersion-based program twice a month from 11:00am to 11:45am.

The next one is Saturday 19th March 2022 — 11:00am to 11:45am.
Click here to register.
---
The music world in Washington DC.

 Opera Lafayette
The Opera Lafayette has been a major player in the music world of Washington DC by interpreting and producing period operas from the 17th through the 19th centuries mainly from the French repertoire. The Opera Lafayette Washington DC season will start again in June with three major productions...stay tuned!

 Wolf Trap
Located in Virginia, the 117-acre park offers more than 100 performances every summer outdoors in the Filene Center and at the smaller Barns of Wolf Trap venue.
There is something for every taste as performances cover genres as diverse as opera, bluegrass, world music, symphony, hip-hop, rock and country!
Click here for more information on the 2022 season


 Strathmore
Located in Maryland, Strathmore Music Center is home to many regional orchestras and is open all year long (pre and post-pandemic of course). It also offers a great variety of genres. To find out more click here.


 The new Capital One Hall in Tysons Corner
Capital One Hall will host Fairfax County non-profit arts groups as well as Broadway productions, comedy, and concerts. It also has two venues: a 1,600-seat performance hall and The Vault — a 225-seat theater.
Other area musical orchestras have resumed their in-person concerts


 The Washington Bach Consort is a choral and orchestral ensemble dedicated to the music of Johann Sebastian Bach and its contemporaries. It offers a wide variety of concerts, including Baroque Music in Latin America, and Noon Cantata series. Click here for more information.


 The Washington Metropolitan Philharmonic offer stimulating concerts, culturally diverse collaborations, innovative programming, and educational outreach. Click here for more information.->https://www.wmpamusic.org/uploads/2/5/4/7/25473698/season_brochure_20212025.png]
---
The world's largest pipe organ is in Atlantic City

The world's largest operational pipe organ in the world is not far away from here in Atlantic City! The 33,112 pipe Midmer-Losh Opus 5550 is located in the Jim Whelan Boardwalk Hall.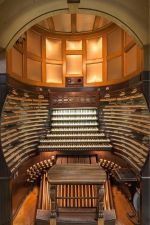 It is supposed to be the largest instrument in the world and to be more powerful than twelve orchestras. In the Guinness Book of Records it is not only the largest, it is also the loudest!
Here are the figures posted on Wikipedia: "The main auditorium is 487×288×137 feet (148×88×42 m)[2] with a floor area of 140,000 square feet (13,000 m2), with a volume of 5,500,000 cubic feet (160,000 m3)".
Starting again in the Spring you can go and listen to a recital on Wednesdays at noon.
Click here to get more information on what has been called ""The Sonic Mount Rushmore".
---
We enjoyed another delicious Solidarity dinner on Monday February 21st at Brasserie Liberté in Georgetown where comfort food and great cuisine were served in a cozy and laid-back setting. To see all the pictures of the evening go to our website's photo albums.
Save the date for our next dinner will be on April 21st.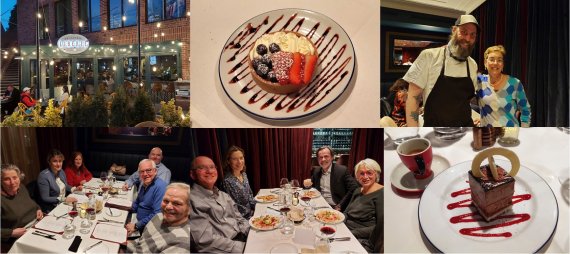 ---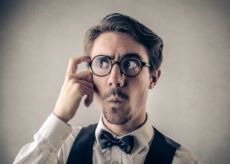 Les Expressions Françaises:
"La musique adoucit les moeurs" (Music has charms to calm a savage beast)
This expression has its origins in the writings of Plato. It implies that music has an effect on behavior through its educational and comforting virtues.
In the Republic, Plato says:
"Education in music is most sovereign...one who was properly educated in music… would praise beautiful things and take delight in them and receive them into his soul to foster its growth and become himself beautiful and good…"
The phrase 'music has charms to calm a savage beast' was first echoed in a poem by William Congreve "The Mourning Bride" in 1697.
In our daily lives music is known to calm and sooth: we all have at one point or the other used the power of lullabies to put a child to sleep!
---
Les Elections Presidentielles et Legislatives
Pour tout savoir sur la facon de participer aux élections Présidentielle et Législatives, cliquer ici.