Fall is around the corner with pleasant days for convivial gatherings and rainy ones for inspiring Films Festivals.


  Warm Gatherings to all Francophiles, natives or not


  Films Festival – Belmondo and Jean-Luc Godard


  Did you Know? From New Wave to Metaverse


  Save the Date

---
Warm Gatherings
Washington Accueil Grand Café de la Rentrée September 28th from 10:00 am to 12 :00 pm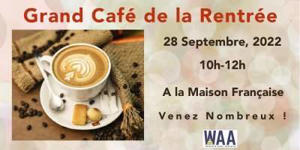 Did you just arrive in our area? Each year Washington Accueil organizes le Grand Café de la Rentrée for you and its members. It's a great way for newcomers to meet with the Washington French community, discover WAA clubs and activities for the coming year, and meet WAA's French-speaking partner organizations in the DC region.
Share a friendly moment around a delicious buffet breakfast and join or renew your membership.
This event is free and accessible to all, members and non-members, on registration.
Click here if you are a member. If you are not a member yet, send an email to bureau@washingtonaccueil.org to register.
---
Comité Tricolore's Solidarity Dinner at Central Michel Richard October 11th at 6:30 pm
Since the Covid crisis began, we have organized 15 Solidarity Dinners and worked with French restaurants to deliver more than 400 meals to La Casa-Friendship Place organization.

 

These actions have helped restaurants, while strengthening French-American bonds.

Many restaurants and partners help us in return by sponsoring our events, in particular Bastille Day, which was a great success this year.
Our Solidarity Dinners are a great way to enjoy the best French menus that area Chefs are preparing, just for us!
In October we will be going to one of the most celebrated restaurants, where Chef David Deshaies is preparing an exciting and sophisticated menu.
---
Le Déjeuner sur l'Herbe Sunday October 16th from noon to 4 pm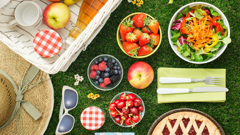 This year's annual Déjeuner sur l'Herbe will take place on Sunday, October 16 to welcome the French community and especially newly arrived families. You will have a chance to meet the French-American associations of the Washington DC area and members of Comité Tricolore.
There will be games, entertainment, Live music, and of course French food.
This is also a great sponsoring opportunity.
Your business can be listed in the event promotions and acknowledgements, set up a Sponsor table, and/or leave us brochures/flyers for us to share with attendees.
There are many new families this year!
Our Newsletters go out to 5000 emails in the DC area
and we communicate on social media.
If you are interested, contact our President Eve Chauchard evechauchard@gmail.com
.
---
Films Festivals
The Belmondo Film Festival organized by the Alliance Française de Washington will present:
The Festival will also feature:

Breathless
"À bout de souffle", - Monday September 26th, the movie which made Jean-Paul Belmondo famous overnight.

Le Doulos
- Wednesday September 28th, one of Melville's most gripping crime dramas, starring Belmondo as an enigmatic gangster.

Léon Morin, Prêtre
- Friday September 30th, a 1961 French drama by Jean-Pierre Melville, with brilliant performances by Belmondo and Riva.

Pierrot Le Fou
- Tuesday October 4th, a story of the last romantic couple, by Jean-Luc Godard.

Stavisky
- Tuesday October 11th, a French biographical drama film based on the life of the financier and embezzler Alexandre Stavisky.

Belmondo by Belmondo
on Friday October 14th, the festival will end with "Belmondo by Belmondo", a sly, playful tribute to – and interrogation of – the American musical comedy, showcasing Godard's signature wit and intellectual acumen.

"Belmondo Retrospective" Film Festival,
September 23rd to October 14th
Don't miss the "Belmondo Retrospective", a series of films featuring the icon of the French New Wave, who became an overnight star after playing a gangster in Godard's "Breathless", becoming France's most beloved actor.
The Film Festival is also a great chance to enjoy some of France's best film directors, including Melville, Resnais and Truffaut and Jean-Luc Godard who passed away this month.
Registration to these screenings via our Agenda below or the Alliance Française website .
We will post more details about the venues on social media:

  On Facebook: Comite.Tricolore.org
https://www.facebook.com/Comite.Tricolore.org/


  On Instagram: comitetricolorewashingtondc
https://www.instagram.com/comitetricolorewashingtondc/


  or just Hashtag #comitetricolore
---
The Fantastic Science Fiction 2022 Film Festival
The Fantastic Science Fiction is a Film Festival produced by the Villa Albertine in partnership with the DC International Film Festival.
« Love at First Fight » Tuesday, September 27th at the Maison Française
Between his friends and the family business, Arnaud's summer looks set to be a peaceful one. Peaceful until he runs into Madeleine, as beautiful as she is abrupt, a concrete block of tensed muscles and doomsday prophecies.
---

Did you Know? From New Wave to Metaverse
The French New Wave ´La Nouvelle Vague´ started in the 50's at a time when French society was modernizing. It was led by a group of young movie directors, Jean-Luc Godard being the most influential. Along with Claude Chabrol, Alain Resnais, Francois Truffaut and Éric Rohmer, to name a few, they transformed the industry by departing from more traditional and conventional film-making akin to theater, and proposing social and political movies closer to a documentary style. In doing so they also experimented with new ways of filming and editing.
Jean-Luc Godard passed away on September 13th this year. The New Wave movie director will not see the evolution of the new cinema forms emerging with the appointment of Jean-Michel Jarre to the National Center of Cinema (CNC) Metaverse Project on September 7th.
Jean-Michel Jarre, has always been at the avant guard of new technologies in artistic spheres. A musician whose shows have made use of electronic music, laser displays, and projections. The CNC put him in charge of developing immersive works in the Metaverse.
Facebook is investing heavily into the Metaverse, which it categorizes as the next step after the Internet in helping people connect when they are not physically in the same place, getting them even closer to that feeling of being together in person.
Developed mainly for gamers, the Metaverse hopes to become part of the mainstream. Jarre's objective as set by the CNC is to use this new tool to "promote the emergence of creative, ambitious and internationally oriented immersive works".
---
Save the Date
Strasburg in Pennsylvania – October 22nd - All Day Trip
Last year's trip to Strasburg, Virginia was a great success! Alsace Washington DC Association is organizing a trip to a different Strasburg in the USA.
This time it will be to Strasburg, Pennsylvania, in the middle of the Amish country, on Saturday, October 22nd, from 9.30 a.m. to 3.00 p.m. (travel time not included).

The program is for all ages so bring the family!

 visit of an Amish farm including bread, butter, and cider making, and tasting of the products you will have prepared,


 picnic lunch under an outdoor shelter at The Amish Village where you can either unpack your own picnic or purchase local produce, barbecued chicken, and hot dogs.


 45 minute steam train ride through the surrounding countryside.
And you may wish to extend your stay and visit the Pennsylvania Railroad Museum or the National Toy Train Museum.
You can find the full program and register on Eventbrite.