---

Appear on our Red Carpet
Win the Bid - Win the Prize: our Online Auction
Did You Know? The origins of the Festival de Cannes
A preview of the fun: Dinner at Matisse
Les Expressions Françaises: "Dérouler le tapis rouge"

---
Appear on our Red Carpet
If you did not have a chance to appear on the Red Carpet at the Festival de Cannes this week, don't worry, on July 15th come to our celebration of Bastille Day and experience the excitement of an evening on the Côte d'Azur.
You will walk on our Red Carpet and be received like celebrities!
Get your tickets early at the May special rate, click here for all the details and to reserve a seat.
---
A preview of the fun - Dinner at Matisse
If you want to have a preview of the conviviality of our events, join us at 6:30 PM on June 6th at Matisse Restaurant.
Matisse Restaurant artfully prepares modern French Mediterranean cuisine in a beautiful setting.
Matisse is located between Chevy Chase and Upper Northwest and provides Contemporary French Fusion cuisine to neighborhood locals and the power players of Washington. In a space designed by Thomas Pheasant, guests dine on the freshest seasonal, organic, and local ingredients in a chic and elegant atmosphere.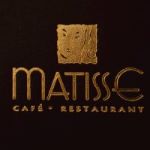 25 tickets are available at the price of $94 per person, which consists of $69 for your meal (tax and tip included, drinks excluded) and $25 as a donation to the Comité Tricolore (larger donations are of course encouraged). The donation is tax deductible.
Check out the amazing Menu and reserve by clicking here.
If you are coming with friends, please let us know so that we can seat you together at the same table.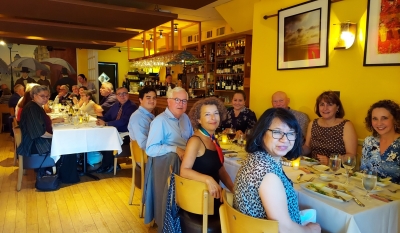 The CT May Dinner at Bistrot Lepic. To see the complete picture album, follow this link.
---
Win the Bid - Win the Prize
Our famous online auction is now open.
Bid on private concerts, great trips and vacation packages, fine art from private galleries in DC, and other exciting activities and luxury items. New items will be added as we receive them.
If you prefer to travel: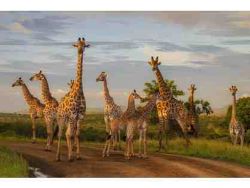 South African Safari for 2 persons - Zulu Nyala
Mansion Stay in County Kildare, Ireland - 6 Nights for Two at Carton House
Choose your favorite destination in the US/Canada! 3 nights at any participating Fairmont
Between Sea and Mountain: A 7-night Mexican Retreat for up to 12 guests
An Immersion in Monaco's Joie de Vivre - 5 Nights for Two at Fairmont Monte Carlo
A Fairytale Vacation: Château Le Petit Verdus, Bordeaux: A 5-Night Rental for up to 14 guests


If you prefer a work of art: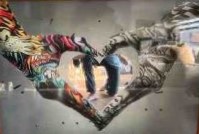 Reflecting Love: A Jean-Luc Vivier Painting
Poetic Porcelain: A Raynaud Vase
High-end photographic portrait of you or your family by Jeff Lubin
Global Warming: A Jean-Luc Vivier Painting
Cosmic Highway: A Jean-Luc Vivier Painting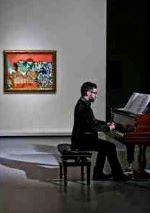 If you love music:
Private Vocal Recital with Baritone Vincent Fung
Private Piano Concert with Virtuoso Adriano Spampanato
Click here to see all the items and start bidding.
---

The Origins of the Festival de Cannes
The Cannes Film Festival owes its origin to a diplomatic crisis in 1938, when the jury of the Venice Mostra, then the International Film Festival, changed the award winners under pressure from Hitler and Mussolini in favor of "Olympia", a nazi propaganda movie.
The decision provoked an outcry from France, the United States and Great Britain whose members left the Mostra determined not to return.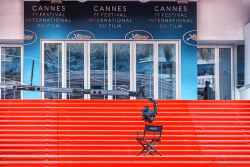 Therefore, the proposal from diplomat Philippe Erlanger to organize another festival, free of pressures, received support from the French Minister of Education and Fine Arts, Jean Zay, and the first edition of the festival was scheduled to be held in September 1939.
However, it wasn't until 1946 that the Cannes Film Festival finally took place. headed by Jean Cocteau, and held in Cannes.
From then on the Cannes Film Festival grew in popularity. It expanded its scope by introducing various categories of awards, such as the Palme d'Or, the Grand Prix, the Jury Prize, and the Best Director Award.
The opening night tradition of walking up the steps on the red carpet is still considered by celebrities and audiences as one of the essential parts of the Film Festival.
---
Expression Française
Dérouler le tapis rouge
Roll out the red carpet


The expression has its origins in ancient times: the practice dates back to ancient Greece and was associated with welcoming and honoring important guests.
In ancient Greece, red carpets were used to create a path for gods and goddesses during religious ceremonies. The color red was significant because it was associated with power, wealth, and status. The red carpet was a way to show respect and reverence to the deities.
Now it is your turn!