---

A Month of Celebrations
Celebrate with us on May 8th at Bistrot Lepic
Did You Know? The origins of Mother's Day
Spotlight on a Sponsor – Garnier Thiebaut USA
Spread the Word – A Plethora of French Chefs for Bastille Day
Les Expressions Françaises: "Marquer d'une pierre blanche"

---
A month of Celebrations
In May, around the world, we celebrate many important events. Here are a few:
- In many countries International Workers' Day is celebrated on May 1st to honor the contributions and achievements of workers and labor movements

- Cinco de Mayo commemorates the Mexican Army's victory over the French in 1862

- May 8th is Germany's unconditional surrender in Reims, ending WWII

- On May 9th Europe Day marks the anniversary of the Schuman Declaration, a forerunner to the European Union.

- Mother's Day is celebrated on the second Sunday of May in the U.S. - Don't forget to plan something!

- Across Asia Buddha's Birthday is commemorated in May.

- Memorial Day is observed on the last Monday in May in the U.S. to honor the military personnel who died while serving in the armed forces.
In France, May is a month of long weekends this year as most of these celebrations happen on a Monday!
---
Celebrate with us on May 8th at Bistrot Lepic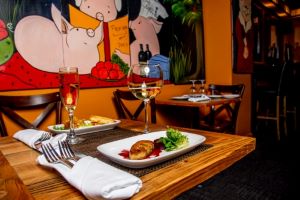 Come with friends, and let us know so that we can seat you together at the same table. Since 1995 Bistrot Lepic has offered traditional French cuisine with a twist of innovative, simple yet excellent cooking to transport its guests to France.
"We are an important part of the local community, offering delicious French food, wine and comfort on a daily basis".
Tickets are available at the price of $ 99 per person, which consists of $74 for your meal (tax and tip included, drinks excluded) and $25 as a donation to the Comité Tricolore (larger donations are of course encouraged). The donation is tax deductible.
Click here for details, menu and registration.
Bistrot Lepic is located in Upper Georgetown at 1736 Wisconsin Ave., NW, Washington, DC 20007 - Street parking is easy in the evenings.
---

The Origins of Mother's Day
The origin of Mother's Day can be traced back to the ancient Greeks and Romans, who held festivals in honor of the mother goddesses Rhea and Cybele. However, the modern version of Mother's Day that is celebrated in many countries around the world today has its roots in the United States.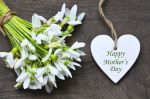 The idea of a Mother's Day holiday was first proposed by Anna Jarvis in 1905, following the death of her own mother. Jarvis wanted to create a day that would honor mothers and their contributions to society, and she began campaigning for the idea with the help of supporters.
In 1914, U.S. President Woodrow Wilson signed a proclamation officially designating the second Sunday in May as Mother's Day, making it a holiday. Since then, Mother's Day has been celebrated annually on this day in the United States.
In France it is generally celebrated the last Sunday in May which is also the month of the Virgin Mary. Years when it coincides with the Christian celebration of Pentecost, like this year, it is postponed to the first Sunday in June.
---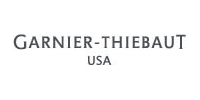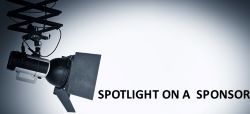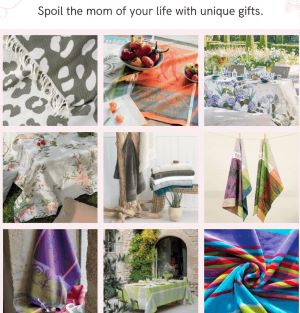 Mother's Day is just around the corner, and what better way to show your appreciation for the amazing woman in your life than with a heartfelt gift? Whether it's your mom, grandmother, stepmom, or mother-in-law, they all deserve to be celebrated on this special day.
Garnier Thiebaut has prepared the perfect gifts to show just how much you care.
Since 1833 Garnier-Thiebaut designs, weaves and crafts high quality linens in France. Their factories are based in the heart of the French forests where the warmth generated by the weaving machines heat the offices to preserve the environment.
---

A plethora of French Chefs for Bastille Day
24 of the Washington DC area best and most renown French Chefs are preparing to regal you on our Bastille Day celebration!
Just to name a few:
Gérard Berthollon - Maître Cuisinier de France and Académie Culinaire de France
David Deshaies - Unconventional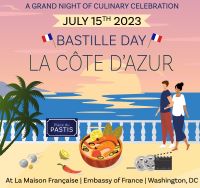 Marc Ehrler - Maître Cuisinier de France
Gilles Epié - L'Avant-Garde
Olivier Gaupin - Maître Cuisinier de France
Sébastien Giannini - The Watergate
Stéphane Grattier - Académie Culinaire de France
Cédric Maupillier - Convivial
Jean-Claude Plihon - Maître Cuisinier de France and Académie Culinaire de France
Early bird tickets for Bastille Day at $250 are almost sold-out! Hurry and get your tickets before the price increases to $275!
Early-bird tickets for Bastille Day, July 15, 2023 at the French Embassy
---
Expression Française
"Marquer d'une pierre blanche"
A Red Letter Day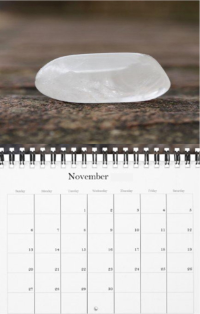 In ancient Greece white pebbles were used as a means of voting. During an election a white stone signified a positive vote; the tradition continued in Roman times where the white pebble, engraved with the name of the guest, also served as an invitation card for banquets and were used to gain admission to certain events.
It became therefore quite normal to use them on a calendar to mark the days when to celebrate or acknowledge something of importance - which is of particular significance in May.
In the fourteen century under the reign of Edward VI, the Anglican Church produced the "Book of Common Prayer" which included a calendar with holydays marked in red ink. Catholic France kept the roman markings, while in the U.S. the phrase "Red Letter Day" is still used to mark significant events.