From Galette des Rois to Kings Cake
Dinner at Convivial pour "tirer les rois"
The French American Chamber of Commerce Celebration
In Recognition of your Gifts
Expressions Françaises & Le Moulin de la Galette
---
On December 21st, days started to get longer, bringing back light and opening a season of holidays and gift giving that lasts through the gloomy winter stretch.
---
From Galette des Rois to Kings Cake
Galette des Rois, Kings Cake: two traditions, one origin and one date, to honor the three Kings: Melchior, Balthazar and Gaspar.
And one good reason to eat French pastry from January 6th to Mardi Gras!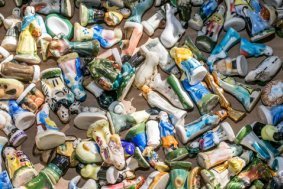 Also called Twelfth Night (twelve days after Christmas) or Epiphany, it is celebrated with a special pastry originally filled with a tiny porcelain figure.

You will find these figures in the drawers of most French households and collectors (called fabophiles) have paid up to $ 1500 for a "fève en porcelaine de Limoges".
This is the trick: the youngest in the family goes under the table, you cut slices of the galette and he/she calls out the names. The one who gets the slice that has the fève is King/Queen for the day.
As with many traditions, it goes back to the Romans. Saturnalia was the holiday when roles were reversed and a slave was chosen to become the King of the household and could give orders to his master. It was one of the most festive of Roman holidays with food, cakes and gift giving, among which there were small dolls called signillaria.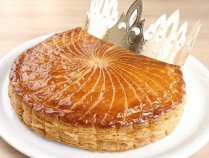 In the Middle Ages it became Epiphany to honor the arrival of the Magi with their gifts and was celebrated with a galette filled with a small doll!
The tradition was brought to Louisiana where the Kings Cake is prepared from the 6th of January all the way to Mardi Gras before the fasting period of Lent.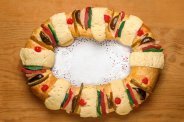 It is never too late to look for a cake; you might still find some at the places such as our bakery partner Fresh Baguette and restaurant Convivial.

---
Dinner at Convivial pour 'tirer les rois'

We have prepared a treat for you on January 24th at Convivial at 6:30 pm!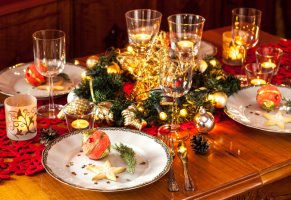 We are starting 2022 with one of the best French Restaurants in Washington DC - Convivial Restaurant with chef /owner Cedric Maupillier.
Chef Maupillier opened Convivial in November 2015 to accolades and rave reviews. The menu has evolved to be reminiscent of the bistro fare found in the French towns where Cedric grew up.
Cedric has prepared a beautiful Menu for us, with some traditional French dishes that you don't want to miss, like "the Paté en Croute, the Vol au Vent, the Pithiviers, the Bouillabaisse, the Cassoulet" and more ….

For Dessert he will bake the traditional "Galette des Rois" and all the lucky guests who find the "fève" in the desert will win a gift …. for a King/Queen
You can reserve your table on EventBrite rapidly as only 40 tickets are available at the price of $ 95 per person, $ 70 for your meal (tax and tip included, drinks excluded) and $25 as a tax deductible donation to the Comité Tricolore.
Starting January 15th, in order to get into a restaurant in Washington DC, you need to show a proof of your vaccination.
---
The French American Chamber of Commerce Celebration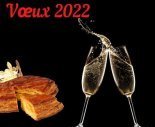 Wishing "Meilleurs Voeux pour la Nouvelle Année" in France is not just something you do on January 1st. French people wish a "Happy New Year" during the entire month. The French American Chamber of Commerce (FACC) invites you to a special new year celebration on January 21, 2022.

Chef Hughes Cossard, owner of FoodExpression, who also manages our culinary network: "Reseau des Metiers de Bouche", will demonstrate how to make the famous Galette. There will also be a degustation of Jambon de Bayonne, the cured ham from the Basque region of France, and many more dishes and wines to taste.
Register on EventBrite and take the opportunity to network with fellow Francophiles, French VIPs, diplomats, professionals and business people at the Maison Française in the French Embassy.
---
In Recognition of your Gifts:
We want to thank all those who have donated during the past year. Your donation not only helped us to support our beneficiaries during that period of time, but also allowed us to give them a gift to share during the holidays.
The page "Friends of the Comité Tricolore" on our website recognizes your contribution and is our way to show our gratitude.
---
Les Expressions Françaises:
From "Avoir du Blé" to "Avoir de la Galette" (slang for being wealthy)
The definition of Galette in French is a flat cake made of flour, butter and eggs. It is also a stack of coins and therefore represents wealth and money.
Mills were a source of wealth and "avoir du blé" meant having money. If on top of that you have butter and eggs, you really have "de la galette"!
These two meanings are well represented in the name of the famous Parisian cabaret: le Moulin de la Galette.


Le Moulin de la Galette in Paris is an old mill dating from the 13th century that used to produce flour.
It was bought in the 19th century by Nicolas-Charles Debray who opened a small bar where they served a galette with a glass of milk.
The bar became a cabaret and a place to eat, drink and dance, making Debray quite a wealthy man!
The Moulin soon becomes a mythical place that the greatest artists like Renoir, Toulouse Lautrec and Van Gogh have immortalized it in their paintings.
(image source:Wikipedia)
---