Enjoy the Other City of Lights
Hit the Ice, Jack
Shop till you Drop
Dine in "Grande Pompe"
Holiday Markets
Les Expressions Françaises:"en grande pompe"
---
We want you to enjoy this Holiday Season and have made a LONG list of the many events you can enjoy!
You can stay warm in your car to see the holiday lights, be more adventurous and go ice skating, shop online for gifts proposed by our sponsors or at outdoor holiday markets AND, our partner restaurants are all ready to dazzle you with delicious holiday meals.
---
The Other City of Lights (after Paris!)
On the White House Ellipse
The Pathway of Peace site is free to visit and open to the public December 4 through January 1, 2022. Hours are 10:00 am-10:00 pm Sunday-Thursday, and 10:00 am-11:00 pm Friday and Saturday. If you are member of WAA, you can attend their guided tour on December 15th.
Winter Glow at Mount Vernon Dec. 19 candlelit guided tour to learn about holiday traditions in 18th-century Virginia. Mount Vernon by Candlelight tickets.
Bull Run Festival of Lights holiday drive
A 2.5 mile drive through festive light displays, walk-through Christmas Village and Carnival. The show is open nightly through January 2, 2022. Tickets are required.
Meadowlark Winter Walk of Lights
In Vienna, open nightly through Sunday, January 2, 2022, including all holidays. Tickets are required.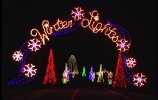 Winter Lights at Seneca Creek State Park
The 3.5 mile drive through the Seneca Creek State Park, 11950 Clopper Road, will be open nightly through December 31. Tickets are required.


The King Farm Village Center First Holiday Laser Light Show on December 16 in Rockville. Go to the Patch for more information.
Go to Nationals Park, in the Capitol Riverfront through January 2, 2022 a 100-foot animated tree, with a light maze, and an ice skating trail. Tickets start at $29–$39.
Drive through Merriweather Symphony of Lights in Howard County until January 2.
Ride the Holiday Festival of Trains: at the Baltimore and Ohio (B&O) Railroad Museum from December 13 – January 3.
Tickets are available to the Garden of Lights at Brookside Gardens until January 2 with $10 timed tickets.
---
Hit the Ice, Jack…once more, once more, once more…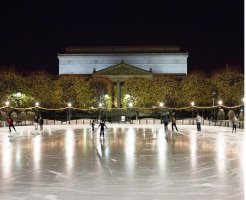 The National Gallery's Sculpture Garden Ice Rink is open now through March 6, 2022, Tickets are $10 for adults, $9 for children 12 and under, for two 45-minute sessions plus $4 for skate rentals.
Ice & Lights- the Winter Village at Cameron Run through January 2nd from 5-10pm. Tickets are required and include Ice Skating and Village admission.
The Wharf Ice Rink is open Wednesday to Sunday through February 2022. Tickets are $12 for adults, $9 for ages 12 and under, plus $6 for skate rentals.
The Washington Harbour Ice Rink in Georgetown is open through March 13, 2022. Tickets are $10 for adults, $9 for children 12 and under, plus $7 for skate rentals.
Over the Holidays National Harbor has many special events to choose from.
---
Shop till you drop with our sponsors
Check out the beautiful collection of Holiday linens from Garnier Thiebaut or choose a gift card.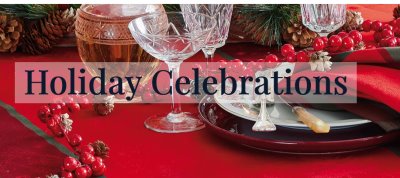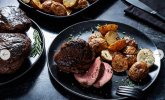 And to go with the luxurious setting you can order from Cuisine Solutions sous vide dishes right to your door and ready to serve in just minutes.
Or buy Holiday Specials from d'Artagnan.



And whether you are a traditionalist and want Turkey or have opted for seafood, you will love browsing through the Cuisinery Food Market offering a wide range of holiday specialties such as Foie Gras, Coquille St Jacques and Bûche de Noël.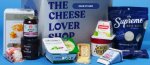 And of course, a festive French dinner is not complete without cheese, so send some along from the Cheese Lover Shop.
---
Dine in "Grande Pompe"
This year we can GO OUT, so let's enjoy the Holiday meals prepared by the restaurants that are part of our community and brought us pleasure and comfort these past two years.
All of them have hosted our Festive dinners and they are providing holiday meals to enjoy "sur place" or be delivered to your door. Some even propose a traditional Bûche de Noël, just in case you don't feel up to making one!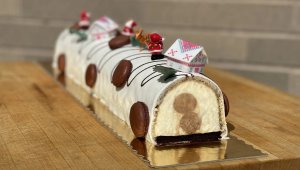 Convivial's pastry chef Mark Courseille proposes a Bûche de Noël: one of the oldest French traditions that originated as a celebration of the winter solstice with the burning of a log. The Bûche accompanies a decadent meal curated by Chef Cedric to eat at the restaurant or take home.
Or treat yourself to the Unconventional Diner experience, or give someone special a gift card.
2941 Restaurant
Christmas Eve Menu 2021
Three-Course | $105
December 24, 2021
4:00 PM - 9:00 PM
New Years Eve Menu
Three-Course | $145
December 31, 2021
4:00 PM - 10:00 PM
Holiday Carryout Packages 2021
La Côte d'Or
Bûche De Noël - Christmas Log
Chocolate, Hazelnut, Coffee $45.00
Grand Marnier $48.00
New Year's Eve
Friday, December 31, 2021
3-course set menu $75.00
Only available for dinner.

Lebanese Taverna
Ring in the new year with endless mezza and a champagne toast, DJ, party favors and live belly dancing.
Mezza Madness is available for a 9pm seating at Baltimore and Tysons only.
Et Voilà offers special holiday menus, deserts and take out you can order online
In case you missed our wonderful CT dinner here last October enjoy the Holiday's by going out to dinner at RIS Restaurant in DC.
You might also choose to order online at Cafe Del Ray.
La Ferme Restaurant proposes menus for:
Christmas Eve
Price per person $90.00
Served on Christmas Eve from 5:00 pm to closing
New Years Eve
Price per person: $120.00
Served on New Year's Eve from 5:00 pm to 8:30 pm
And if you are not part of our latest Festive Dinner you can still head out to L' Ardente.
At Brasserie Liberté celebrate Christmas Eve, Christmas Day, New Years Eve, and more! Get a $10 gift card with every $50 gift card purchased!
---
Holiday Markets
If you would rather face the cold winter days, then warmth of your kitchen there are many outdoor holiday markets to prepare your holiday dinner at home:
The Downtown Holiday Market, between 7th and 9th Streets on F Street NW runs daily through December 23
The Holiday Market at Victura Park at the REACH at 2700 F Street NW, on December 10th - 12th, & 17th - 19th,
Baltimore Christmas Village through December 24 for German-style treats and decorations plus shopping from local vendors.
The Park View Holiday Market at Hook Hall on 3400 Georgia Ave. NW the first three Saturdays in December from 10am - 2pm.
The Holiday Market at Four Seasons Hotel on Pennsylvania Ave on Fridays, Saturdays, and Sundays until Dec. 19.
The Holly Days at Eastern Market Main Street.
The Eastern Market's indoor market, has also a market outdoor as well as a flea market on weekends until December 31st.
Adams Morgan Holiday Shopping has Carols on December 2 and 9 from 6 to 7:30 pm and December 11 and 18 from 12 to 1:30 pm.
---
Sing-A-Long
National Cathedral Christmas Concerts
Christmas Carol at Ford's Theatre until December 27.
A Christmas Carol: The Little Theatre of Alexandria presents A Christmas Carol December 3-18.
Holiday Concerts at the Strathmore:
Holiday Concerts with the Baltimore Symphony Orchestra
---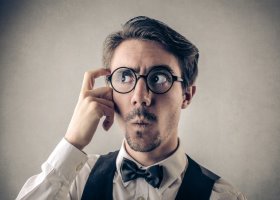 En Grande Pompe (In Large Cortege)
Since the twelve century it means a luxurious feast, but according to the site "Expressions Françaises" it comes from the Greek and referred then to funeral ceremonies, which explains the French translation of funeral homes as "pompes funebres".
The Romans then considered a luxurious cortege as a sign of wealth, and the French of course took the best part of the expression to describe a happy and luxurious gathering: "un mariage en grande pompe" for instance.
---
Tonight is the Night for he Comité Tricolore Holiday Dinner!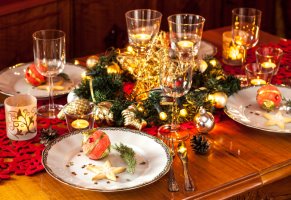 On December 13, 2021 at L'Ardente, the new "glam-Italian" restaurant owned by Chef David Deshaies!
Join us for a special menu prepared especially for us!
Only a few seats left click here to reserve
---