Holiday Dinner of the Comité Tricolore at l'Ardente
Monday 13 December 2021 from 18:30 to 21:30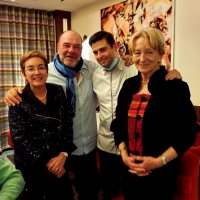 Celebrate the Holiday season with us at L'Ardente, the new "glam-Italian" restaurant owned by Chef David Deshaies!
"The restaurant reflects the glorious contrasts of Italy itself: haute yet simple; glam yet rustic; indulgent yet restrained. "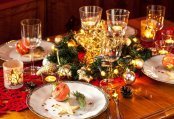 Read about l'Ardente in the Washington Post:
https://www.washingtonpost.com/food/2021/10/29/lardente-restaurant-review/
Chef David Deshaies received the 2020 RAMMY award, honoring the best DC area restaurants.
Your participation will help the restaurant AND the community since the price of the ticket includes the price of the meal which goes entirely to the restaurant plus a tax-deductible donation to the CT which goes entirely to one of our beneficiaries. 45 tickets are available at the price of $95 per person, which consists of $70 for your meal (tax and tip included, drinks excluded) and $25 as a donation to the Comité Tricolore (larger donations are of course encouraged). The donation is tax deductible.
Vegetarian options are available.
If you are coming with friends, please let us know so that we can seat you together at the same table.
Some COVID 19 sanitary protocols are in place. You will be asked to wear a mask when entering the restaurantand walking around. Please do not attend if you are experiencing any symptoms of COVID-19.
Parking: The parking entrance is on 3rd Street and G at the 250 Massachusetts Ave building (mirror building to 200 Massachusetts Avenue bld)- hourly rate $13 up to 2 hours, daily rate $20. Open from 6pm to 11:30pm.
Register: https://www.eventbrite.com/e/holiday-dinner-of-the-comite-tricolore-at-lardente-tickets-202590843667
Menu: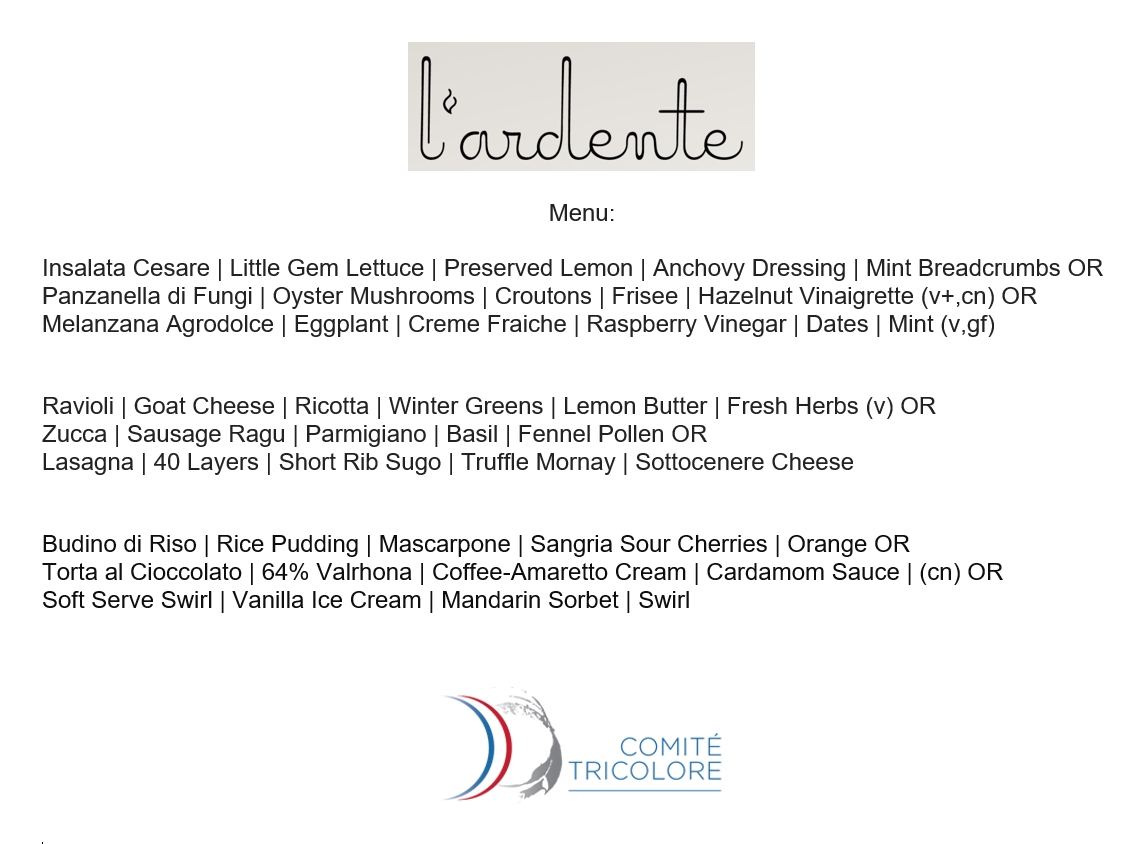 Place
200 Massachusetts Ave., NW, Washington, DC 20001