The Comité Tricolore is proud to create the VICTOR OBADIA HUMANITARIAN TROPHY in memory of our first President. For more than forty years, Victor Obadia worked tirelessly to introduce French culture, co-found numerous non-profit organizations to build relationships in the French and American communities, and raise funds for those in need in the Washington, DC area.
In order to carry on Victor's legacy, the Comité Tricolore is proud to introduce the first Victor Obadia Humanitarian Trophy in recognition of our friend Victor who dedicated his life strengthening ties in the French-American community. This trophy will be presented to an outstanding individual to honor their achievements, benevolent actions and principles of generosity and compassion.
---
The Trophy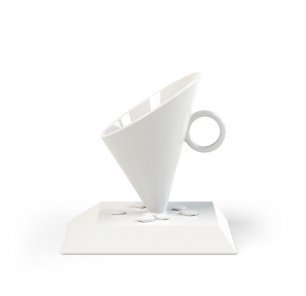 The Victor Obadia Humanitarian Trophy will be presented by the President of the Comité Tricolore to the selected laureate at an Award Ceremony at the French Embassy in Washington, DC, in October 2021. The laureate will also be recognized in an official announcement that will appear in the Comité Tricolore's newsletter. In addition to recognizing this outstanding individual, the Comité Tricolore hopes this award will encourage others to serve their community.
Victor Obadia was the first importer of coffee, espresso machines and French fine goods in the DC area. The unique design of the trophy pays homage to Victor Obadia's career and incorporates his initials: the shape of the cup is a V and the handle is an O. Sharing a cup of coffee is a symbol of communality. (Design: J-P Krukowicz; manufactured by LR-Paris)
---
The Eligibility Requirements
If you know of an individual who meets the following criteria, we invite you to submit an application by August 30, 2021. The applicant must be:
• A French humanitarian living in the DC, Maryland, Virginia, Delaware and Pennsylvania region whose benevolent actions serve either his/her local community OR a humanitarian of any nationality supporting the French or French-American community
• A reliable, and discreet individual acting with humility
• An individual recognized by her/his peers for her/his generosity and ethics.
NB: Members of the Comité Tricolore or their immediate family are not eligible for nomination.
---
The Nomination Process
The call for nominations is now open.
The application can be completed online (preferred): https://forms.gle/PjANbxpzkAU4ZNjv6
or downloaded here:
Completed forms should be submitted either on line or to the President of the Comité at:president@comite-tricolore.org by August 30, 2021.
This PDF document includes the Trophy definition and and the application form:
---
The Evaluation Process
All applications will be evaluated by the Comité Tricolore's Victor Obadia Trophy Subcommittee. This subcommittee will make a recommendation to all members of the Comité Tricolore who will vote to determine the year's laureate of the Victor Obadia Trophy.
Please help us share this wonderful opportunity with friends and acquaintances who may know anyone who would meet our criteria. If you have any questions, please contact president@comite-tricolore.org.
VOHT Subcommittee members: Michel LAUDIER (Head), Eve CHAUCHARD, Etienne DAILLY, Stéphanie MACE-OBADIA, Yahne MIORINI