Help us make a difference in the lives of the less fortunate in our community.
Find out about Your Impact and how to Get Involved.
Our deepest gratitude to the Friends of the Comité Tricolore.
"Solidarité France Covid 19" Initiative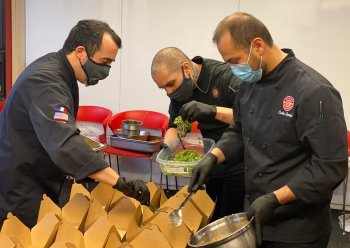 Give a hot meal to the less fortunate and support local restaurants.
La Casa-Friendship Place is a building in Columbia Heights, DC that accommodates 40 men who have been previously homeless and who are very vulnerable in terms of their physical or psychological health.
On site, a staff of some 10 people helps them manage their medical needs and improve their living conditions.
Each of them has a small individual studio and has to manage his own food budget. Their income is very limited or even non-existent. During the pandemic, residents find it more difficult to go to the supermarket to do their shopping. Friendship Place which is managing the center has created a pantry to compensate for the lack of resources, but no hot meals are ever served.
Our Project:
In partnership with the French Embassy, the Comité Tricolore is committed to:
Provide one hot meal per week (or to be reheated) to the residents and support staff of La Casa.
Help the restaurants and chefs of our region who are partners of the Comité Tricolore by purchasing meals for the residents of La Casa. List of participating restaurants: Restaurants
Do so by promoting the French values of friendship and solidarity through good, healthy meals.
How can you participate?
You can support this project:
By making a minimum donation of $20 for one meal or more for several meals
By supporting one resident or staff for the duration of our seven-week program for $140
By contributing any amount that will be gratefully accepted.
---
Give online
With one click you can give one time, or make a monthly pledge. You will be able to choose to donate to the Victor Obadia Fund, honoring the memory of our first President.
Your donation is tax deductible as the Comité Tricolore (Tricolore Committee) is a 501(c)(3) non-profit organization. The Comité Tricolore is run by volunteers.
There are many ways you can helps us:
You can also send your donations by mail or by phone
Or through the Amazon Smile program (see below how you can participate)
---
Give by mail

If you prefer to send a check:
Make the check to The Tricolore Committee and mail it to:
Michel Laudier, Treasurer CT
2048 Great Falls Street,
Falls Church, VA. 22043
---
Give by phone

For cash or stocks donations please contqct our Treasurer at +1 571 271 5941.
We can work out the details with you.
---

AmazonSmile is a simple way for you to support us every time you shop, at no cost to you.
Do you ever shop at Amazon.com?
If yes, Amazon will donate 0.5% of the price of your eligible purchases to the Tricolore Committee (AKA: Comité Tricolore). Just click the link https://smile.amazon.com/ch/52-2095542 to be automatically directed to the Committee's donation site. Or when you shop on Amazon.com, there is a message asking you to pick a charitable organization - type: Tricolore Committee.
---
Your donation is important!

It will be used to support an individual or a family in difficulty, especially when the impact of Covid-19 on the health of the most fragile, and the critical situations generated by the virus on the socio-economic level are unprecedented.

During the pandemic the Comité Tricolore has been very active in support of the Restaurants and food industry professionals through a series of programs and partnerships. Scroll down to watch our video.
---
Table Napkins I LOVE MY CHEF by Garnier-Thiebaut:
The Comité Tricolore supports its local restaurants partners since the onset of the COVID crisis. Help the restaurants by purchasing these beautiful napkins.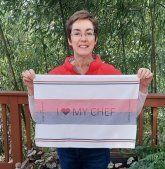 100% cotton, 22"X16" – $10 a piece- packages of 4
To order, please follow this link:
https://gtlinens.com/retail/i-love-my-chef-napkin-100-cotton-1
---
Solidarity, tolerance and respect are the guiding principles for the charitable action of the Comité Tricolore.
Moral and financial reports are available by request.
---
Helping Restaurants and food industry professionals during the pandemic
The Comité Tricolore responds to individual requests for help from French people in sometimes very delicate situations, but we also want to build a partnership between local French restaurants owners or chefs and American impacted by the COVID crisis. Two projects in partnership with the French embassy are working in this direction: we are soliciting French restaurants or buying their services to provide food to caregivers and patients in DC hospitals and to homeless people in a shelter run by Friendship Place.
We are also helping Restaurants and food industry professionals through our network "Réseau des métiers de bouche". Watch our 14 minute film:
French Chefs of the DC area and food industry professionals tell us about the impact of COVID 19, how they survive while restaurants were ordered to close, how the food industry will look like after the crisis and what will they do differently if COVID 19 was coming back.
Video: © 2020 Comité Tricolore All Rights Reserved
The needs are there, and our French or French-American community will show solidarity with our host country.
The Comité Tricolore thanks you in advance.
---