Hot Meals for La Casa
Give hot meals to the less fortunate and support local restaurants.
---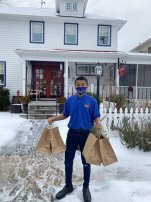 La Casa-Friendship Place
Our Project
French Chefs and French Traditions
To Participate
The Schedule of Deliveries
The Last Mile

---
La Casa-Friendship Place
La Casa-Friendship Place is a building in Columbia Heights, DC that accommodates 40 men who have been previously homeless and who are very vulnerable in terms of their physical or psychological health.
On site, a staff of some 10 people helps them manage their medical needs and improve their living conditions.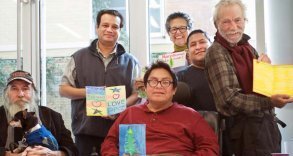 Each of them has a small individual studio and must manage his own food budget. Their income is very limited or even non-existent. During the pandemic, residents find it more difficult to go to the supermarket to do their shopping. Friendship Place which is managing the center has created a pantry to compensate for the lack of resources, but no hot meals are ever served.
---
Our Project:
In partnership with the French Embassy, the Comité Tricolore is committed to:
Provide one hot meal per week to the residents and support staff of La Casa.
Help the restaurants and chefs of our region who are partners of the Comité Tricolore by purchasing meals for the residents of La Casa.
Do so by promoting the French traditions and values of friendship and solidarity through good, healthy meals.
---
French Chefs and French Traditions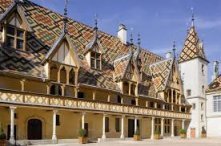 It is a long tradition in France to consider good food as a basis for good physical and mental health. When we speak of the hospitality industry we tend to forget the root meaning of the word.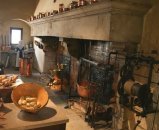 To visit the "Hospices de Beaune" and especially the kitchen, where balanced meals were prepared for the poor, is a reminder of the importance of this concept.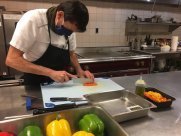 We tend to think primarily about the financial toll that the pandemic has caused our French Chefs. But there is an emotional toll as well and it is with pride and care that they prepare these meals for the residents of La Casa.


---
How can you participate?
We have started a fundraising campaign to reach a goal of $3,000.00.

You can contribute both on our Facebook Page or on our website by:
Any donation will be gratefully accepted.
---
Schedule of deliveries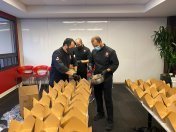 Our special thanks to Cuisine Solutions who donated meals for the first two weeks of the program.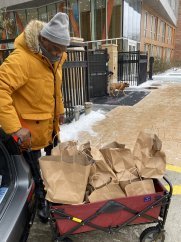 Seven restaurants will each provide 50 meals over the next seven weeks.
Feb 4 - Cuisine Solutions/ Résidence de France
Feb 11 - Cuisine Solutions
Feb 18 - Del Ray Café


Feb 25 - La Chaumiere
March 4 - La Piquette
March 11 - Lebanese Taverna
March 18 - 2941 restaurant

---
The Last Mile
In our last newsletter we were comparing these coming months as the miles of a long distance marathon running race. With the vaccine in sight, we feel that we are almost there, yet fatigue has settled in and this is the hardest part!

In this marathon, the Comité Tricolore is working to be a support team, adapting to the pace of the runners and their needs. Now more than ever, French-American friendship has been and is crucial in giving us the mutual strength to come out winners...as a team.
Thanking you in advance for your contributions.
The Comité Tricolore
---