Solidarity Dinner at "La Chaumière"
on September 26 at 6:30 PM
For newcomers who are not yet familiar with the principle of the "CT Solidarity Dinners", you should know that you will also be supporting families in difficulty, as a $25 donation to the CT is included in each ticket. The CT distributed 33,000 euros in social aid in 2023 thanks, among other things, to this dinner program.
Come with friends or on your own and we'll seat you at a table where you can meet others in a relaxed atmosphere.
These dinners are on weekdays, but they start early (6:30 p.m.) so that we can come straight from work and finish reasonably early too.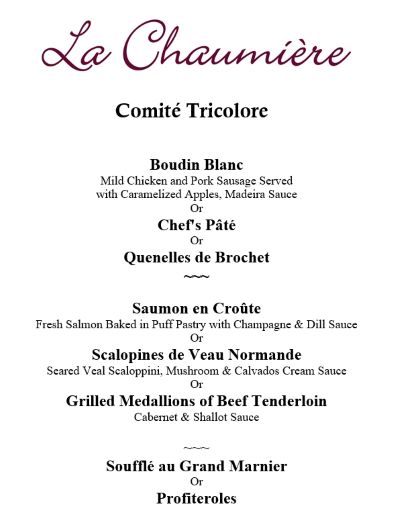 Meet La Chaumière's new owner Gil Fornaris!
Gil started his restaurant career in his hometown of Nice, France, and continued in the United States.
With over 35 years of experience, Gil's plan is to continue the tradition of serving French "cuisine gourmande" in an unpretentious atmosphere enhanced by the central stone fireplace and the consistent great quality of food prepared by Chef de Cuisine Patrick Moulet.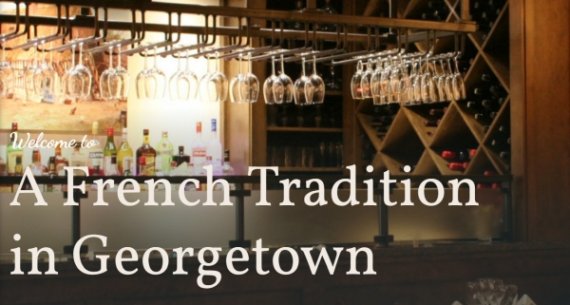 Click here for details and tickets.
Participation in the dinners is a great way to get to better acquainted with the D.C. area restaurant scene and its great Chefs, to get to know each other, and to support the Comité Tricolore's on-going charitable work.
---
An Alsatian Cultural Event on October 6th at 6:30 PM

Alsace Washington DC Association invites you to an exciting soiree with a presentation by renowned artist and writer Tomi Ungerer and his beautiful native region of Alsace, followed by a traditional Tarte Flambée dinner.
Guest speaker: Robert Walter,Robert Walter, friend of Tomi Ungere for 35 years and President of the International Association of Tomi Ungerer's Friends.
Tomi Ungerer (1931-2019) was a famous Alsatian artist and writer who published over 140 books ranging from children's books to adult works and from the fantastic to the autobiographical. He was known for sharp social satire and witty aphorisms. Inspired by the illustrations appearing in The New Yorker magazine, he moved to the United States in 1956 where he continued his work publishing children's picture books and did illustration work for publications such as The New York Times, Esquire, Life, Harper's Bazaar.
Alsatian dinner:
-Appetizer: Crudités salads and Paté en Croute
-Tarte Flambée, family style: a flatbread style specialty, with cream, bacon and onions
-Dessert: Alsatian Apple Pie
-One glass of Alsatian white wine or soda. Water will be provided. A cash bar will be available to purchase additional drinks.
Music: traditional music from Alsace.
---
Le traditionnel "Déjeuner sur l'Herbe" à l'ambassade aura lieu le 22 octobre!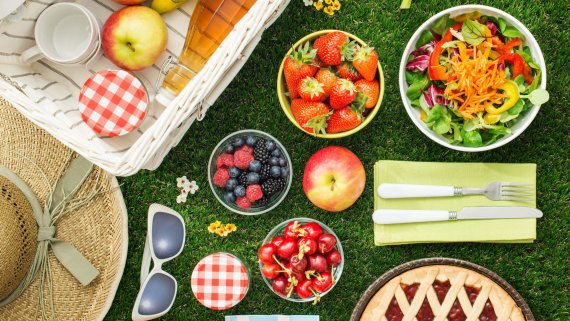 Grand déjeuner organisé par le Comité Tricolore pour la communauté française de Washington, dans les jardins, et sur une invitation de l'Ambassade de France.
Inscrivez-vous dès à présent car les places sont limitées.
$25 par adulte - $15 moins de 12 ans - gratuit pour les moins de 5 ans
Cliquez ici pour plus de détails et pour vous inscrire.
---