HAPPY FOURTH OF JULY!
This summer's releases are quite different from the traditional Summer Movie Releases!
But the Comité Tricolore is proud to present:
Our own Video release of interviews from our area French Chefs,
A summary of the releasing of pandemic restrictions in DC, Maryland and Virginia,
An invitation to the French Embassy Bastille Day celebration,
And finally a report on the cicadas releasing their husks as the nymphs start coming out mostly in Southern Virginia and learn why you should not plant tree in our area this year.
---
The Comité Tricolore Video Release!
Traditionally this is the time for the Summer Movie Releases. Even though Hollywood has had to step back, the Comité Tricolore has gone ahead and released a video, produced by Odile Prévot-Mussat from the Serge Betsen Academy, one of our members.
"How are the French Chefs responding to COVID 19?"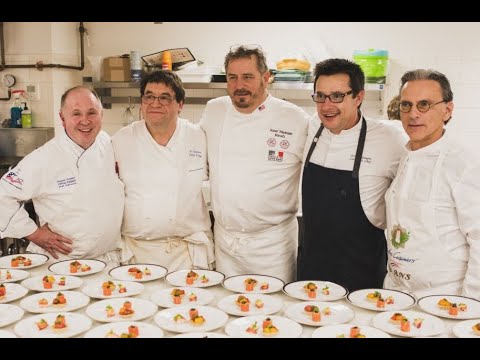 Click on the image to watch the interviews of French Chefs in the DC area and food industry professionals as they tell us about the impact of COVID 19, how they survived while restaurants were ordered to close, what the food industry will look like after the crisis, and what will they do differently if COVID 19 comes back.
---
Restrictions Releases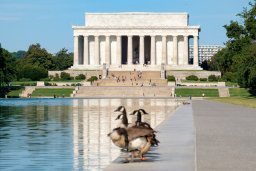 Also released are some of the restrictions that forbade us from enjoying this summer's beautiful weather!

DC and Maryland are still in Phase II, Virginia is in phase III.

Here is a summary of what we have gathered from different announcements and what it means depending on where you live or where you are going to be over the 4th of July weekend.

STAY SAFE: as it has become more difficult to determine what is safe and what is not.
Although places and parks are re-opening it might be best to wait until the weekend crowds are gone!
In Washington, DC
Retail
Retail at 50% capacity with 6 feet apart. Employees and clients must wear a mask.
Restaurants
Outdoors and indoors at 50% capacity. Indoor dining must have tables six feet apart, with no more than 6 people to a table.
Personal Grooming 😊
Open by appointment only with stations at least six feet apart.
Parks
Some parks are reopening, such as the National Arboretum, Bladensburg Waterfront Park - Kenilworth Aquatic Gardens, Kingman and Heritage Island, but beware restrooms are still closed.
Pools
Public pools will reopen for lessons and lap swimming.
Sports and Gyms
5 people allowed per 1,000 sq. feet and an emphasis on smaller group classes.
Houses of Worship
Maximum 50% capacity, with choirs discouraged.
Schools and Camps
Camps can reopen as long as there are no more than 10 people to a cohort.
Cultural
Libraries can reopen at 50% capacity.
The Kennedy Center and the Smithsonian Museums are still closed.
In Maryland
Retail
At 50% capacity with 6 feet apart.
Restaurants
Outdoors and indoors at 50% capacity. Indoor dining must have tables six feet apart, with no more than 6 people to a table.
Personal Grooming 😊
At 50% capacity. Employees and clients must wear face masks.
Sport and Gym
Reopen at 50% capacity with strict health, distancing, and sanitization measures.
Pools
Outdoor pools only.
Schools
School systems may now begin bringing small groups of students and staff into school buildings. All childcare providers may begin to reopen with a maximum of 15 in a room.
Places of Worship:
At 50% capacity.
In Virginia
Businesses
Encourage Telework whenever possible. If not, six feet of separation between co-workers and between members of the public.
Retail
At least six feet of physical distancing between individuals, employees and patrons, with employees required to wear face masks.
Restaurants
Outdoors and Indoors at six feet apart, and parties of no more than 250. Employees must wear face masks.
Personal Grooming 😊
Workstations at least six feet apart. Employees and clients must wear face masks.
Sports and Gyms
Limited to no more than 75% occupancy or 250 persons.
Pools
Indoor and outdoor swimming pools at to 75% occupancy, with ten feet of physical distance. Free swim is allowed. Hot tubs, spas, saunas, splash pads, spray pools stay closed.
Schools
Childcare facilities allowed to open. Overnight summer camps will remain closed.
Places of Worship
Must be seated at least six feet apart at all times.
Cultural
Occupancy cannot exceed 50% and fewer than 1000 patrons. Private bookings are limited to 250.
☹ Wolf Trap is closed for the summer.
You cannot go to the movies (but you can watch the CT video!)
---
An invitation to the French Embassy Bastille Day celebration
Bastille Day online July 14, 2020 at 5:00PM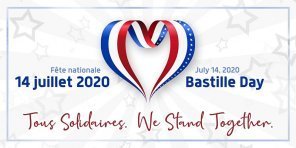 As current health conditions do not allow us to gather and celebrate our national holiday together, the French Embassy in the U.S. and the 10 Consulates General in the United States invite you to join them for a unique online celebration of Bastille Day.
On July 14, visit the Embassy's website or those of the Consulates to discover the best of France in the United States; the Ambassador will speak to you at 5 p.m.
Register. We look forward to seeing you there!
---
The release of the Husks
This sounds dreary, and it will be!
Millions of cicadas from brood IX are poised to emerge in the DC area after 17 years underground. They will be here massively next year but you might already see some "stragglers" from Brood 10 this year. This is why Mike Raupp, an entomologist from the University of Maryland, advises not to plant any shrub or tree until the fall of 2021.
As the nymphs come out of the mud tubes that you might already see popping up in your backyards, they release dark husks with the intent on breeding and laying eggs. We will have their love songs accompanying, or rather overtaking, our conversations for part of the summer!
Sadly, as they implant their eggs into branches, our trees will turn brown, so the end of the summer might look dreary. For dogs though the husks are considered a treat, and some dog owners have been known to freeze them for later.
For more information read:
Virginia Tech article : "What's that noise? The 17-year cicadas are back"
and John Domen of WTOP News "Don't bug out: 2021 will see emergence of 'trillions of cicadas'"
---

Would you like to help us provide relief to COVID-19 victims?
Please Donate