We are all at different stages of the upcoming recovery – physically, emotionally, and financially - so we want to thank each and every one of you who has participated in keeping hopes and spirits alive.
Although we hope to be able to go back to the "old normal", this year has brought many new adaptations in our daily lives, and many for the better. So, let's keep the good and forget the rest.
---

Thank you – you made a difference.
Did You Know? – Garden Radio: Near and Far
Get together with the Comité Tricolore
Where will the music take you?
---
Keeping hopes and spirits alive
By now you know about our program to provide hot meals to the residents of La Casa during the winter of 2020-2021, so here is a video of the deliveries we did since the beginning of this year.
Video: Hot meals deliveries to La Casa in the winter of 2021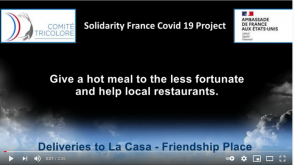 As you can see in the email we received from Jon Bolduc, Division Director of La Casa, you have definitely made a difference!
"We are so grateful for all your hard work in making this happen and all the generous donors that have supplied amazing meals to all our men and staff. We so appreciate it!

I think I have said this before, but it is worth saying again. All the men at La Casa truly love the meals and are always excited to receive the meal each week.

It is interesting to see the guys begin to congregate in the lobby on Thursday late afternoon looking out for the meal. I believe that this is such a nice thing to do for the men at La Casa to provide them with a really well-prepared dinner that not only looks amazing in the presentation but also tastes delicious!

We all are so grateful for your support and partnership.

Jon Bolduc, LICSW
Division Director
La Casa Permanent Supportive Housing

La Casa-Friendship Place is a building in Columbia Heights, DC that accommodates 40 men who have been previously homeless and who are very vulnerable in terms of their physical or psychological health.
On site, a staff of some 10 people helps them manage their medical needs and improve their living conditions.
Our fundraiser to deliver meals to La Casa was a success, but we have not yet reached the full amount that is needed.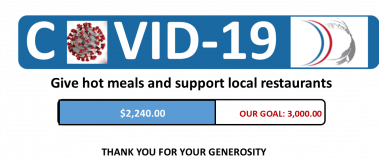 Thanking you in advance to help us meet that goal by going to our website Donate page
---
Radio Garden: Near and Far


Many of us are still not able to travel. However, it is possible to keep in touch with the news, cultural activities, and debates of the places we cherish, or would like to be visiting by listening to the local radio.

Radio Garden invites you to tune into thousands of live radio stations from across the globe!

For instance, those of us who love la Savoie (our next Bastille Day theme) and la Haute Savoie can search for the Chamonix station and listened to Radio Mont Blanc!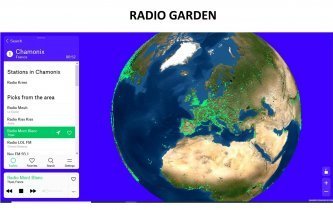 Radio Garden is based in Amsterdam, the Netherlands and started out in 2016 as an exhibition project commissioned by the Netherlands Institute for Sound and Vision. It was created, designed and developed by Studio Puckey & Moniker and is now a growing independent company.

You can listen to it on your desktop by simply going to http://radio.garden/search
Or you can download it to your mobile device through the Radio Garden app.
So, when you are in your car starting to go off to places near or far, you can put Bluetooth on and listen to any radio anywhere in the world…or use it as another easy way to learn or perfect another language!
---
Save the date:

Our next Solidarity Dinner is on April 20th at the Lebanese Taverna. We of course will follow the Covid-19 protocols, but now these tables for up to 6 people can be filled with you and your vaccinated friends!


---
Where will the music take you?

Join the Opera Lafayette for Sunday Serenades and be uplifted to France with a concert showcasing the French Baroque and its influence on Romanticism in France.
Opera Lafayette brings fresh interpretations of rediscovered gems and historical masterpieces from the 17th through 19th centuries to modern audiences.

The Sunday Serenades series begins this Sunday March 28, 2021, at 2:00 p.m. and you can stream on demand from March 29 – April 11, 2021
In Search of Lost Time: French Chamber Works from Rameau to Roussel - Laetitia Grimaldi and Stephanie Houtzeel, with Ammeil Bushakevitz, piano.
For more information go to the Agenda on our website
Or head to Argentina with the Mid-Atlantic Symphony Orchestra with Astor Piazzolla's Aconcagua Concerto for Bandoneon and Orchestra
Join the MSO for the season finale concert on April 22 at 7:30 pm
Music Director: French Maestro Julien Bénichou
The Season Finale concert will feature gifted composer James Lee's Restored Images, a composition commissioned and being premiered by the Mid-Atlantic Symphony.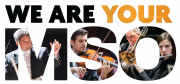 The evening's program will also include - performed by the virtuoso Bandoneonist, Rodolfo Zanetti and Arnold Schoenberg's Verklarte Nacht.
For more information go to the Agenda on our website
---