---
Victor Obadia Humanitarian Trophy Ceremony
Together We Help
Les Expressions Françaises: Joindre l'utile à l'agréable
---
Victor Obadia Humanitarian Trophy ceremony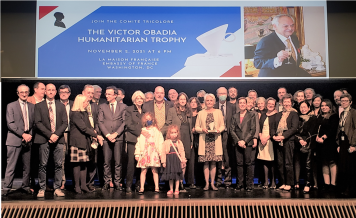 The words of Victor Obadia's daughter, Stephanie Mace, best describe the meaning of the ceremony that took place on November 2nd at the French Embassy.
---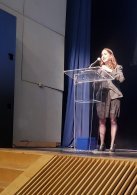 "As a daughter it was an honor and a unique opportunity to participate in an event that allows us to tell my father's story while recognizing others for their contributions to help others."
"This ceremony would not have been possible without the Comité Tricolore Washington DC's dedication to carry on the vision that Victor started with other members more than 20 years ago."

---

In order to carry on Victor's legacy, the Comité Tricolore created the Victor Obadia Humanitarian Trophy recognizing an outstanding individual and honoring his/her achievements, benevolent actions and principles of generosity and compassion.
---
Marie-Yasmine Auclert is the Victor Obadia Humanitarian Trophy laureate for 2021.
Marie, a French citizen, was rewarded for her work as a volunteer with three different organizations.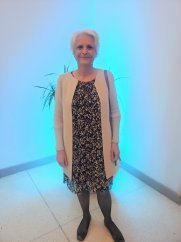 She is co-leader of GRE (Groupe Reflexion Ecoute), a support group for French and francophone expatriates in the DC area and she is co-leader of the Washington Accueil Association's Charity Club, which raises money for various causes and organizes food and clothing drives.
She is also a volunteer local representative for Mayan Hands, a nonprofit dedicated to providing economic and educational opportunities to Mayan women and girls in Guatemala.
---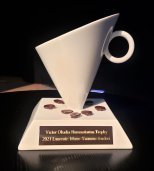 CT President, Eve Chauchard handed Marie-Yasmine Auclert the trophy designed by J-P Krukowicz manufactured by LR-Paris in Limoges to be a symbol of Victor's life. Victor Obadia was the first importer of coffee, espresso machines and French fine goods in the DC area. The unique design of the trophy pays homage to Victor Obadia's career and incorporates his initials : the shape of the cup is a V and the handle is an O.
---


The Consul-General, François Penguilly, Eve Chauchard, President of the CT, members of Victor's family and friends of the CT were present for a delightful buffet and took turns giving very moving, short speeches that reflected the tone of the evening.
---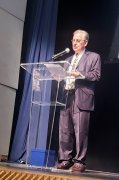 Michel Laudier, CT Treasurer, rightfully remarked that "this trophy is not a reward, it is the recognition of a person who understands a problem and seeks a solution, with devotion, work and time."
"St. Exupery said we see well only with our heart and this idea represents Marie-Yasmine's values. This trophy is intended to highlight the dedication of all volunteers who work for a good cause."
Go to our Photo Album webpage to see the pictures of this event as well as those of the many other Comité Tricolore's gatherings.
---
Together we Help
Everyone hears about our fundraising events: Bastille Day, Diner du Siècle, Solidarity Dinners, etc.
What is less known is that every month we send checks to individuals and families in extremely difficult situations: some with disabled children, abandoned girls, families whose child must come for long-term treatment at NIH, someone with severe emotional distress who has nowhere else to turn. These monthly checks help to make a difference in their everyday lives and allows them to get through difficult times with dignity and hope.
Members of the CT meet regularly to review the needs, decide the level of help required, and increase or terminate the aid based on the situation.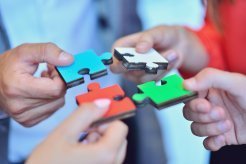 This is an ongoing program and every month we help to support these individuals and families. We rely on the many events that you have come to enjoy and we will continue to do so, but it would be of great assistance to the CT if you would become a monthly supporter.
---
As for many associations like ours a monthly donation, however small, would help us to better manage our response to these needs.

---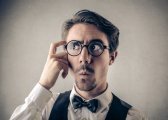 Joindre l'utile à l'agréable (joining the useful to the pleasant)
This could be the Comité Tricolore's motto!
In the first century BC, the Latin poet Horace wrote "Ars Poetica", or "The Art of Poetry", in which he advises poets:
"Poetry wants to instruct or please... but he obtains all the votes he who joins the useful with the pleasant."
Since the Middle Ages, the Ars Poetica has exercised a great influence on French drama and poetry. To follow in Horace's steps we invite you to our Holiday Festive Dinner on December 13th at l'Ardente.
---
Celebrate the season with us at the new "glam-Italian" restaurant owned by Chef David Deshaies!
"The restaurant reflects the glorious contrasts of Italy itself: haute yet simple; glam yet rustic; indulgent yet restrained. "
Read about l'Ardente in the Washington Post:
Chef David Deshaies received the 2020 RAMMY award, honoring the best DC area restaurants.
Your participation will help the restaurant AND the community since the price of the ticket includes the price of the meal which goes entirely to the restaurant plus a tax-deductible donation to the CT which goes entirely to one of our beneficiaries.
Only 45 tickets are available on EventBrite at the price of $95 per person, which consists of $70 for your meal (tax and tip included, drinks excluded) and $25 as a donation to the Comité Tricolore (larger donations are of course encouraged). All donations are tax deductible.
Go to EventBrite to reserve your seats, ticket are going fast!
---