Only a few days left to lower your tax bracket...

...by increasing your generosity bracket!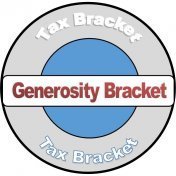 Help Us, Help Others:
By becoming a Friend of the Comité Tricolore on our Donate page.
Or increasing your donation to another bracket on our Friends of the Comité Tricolore page.
Your donation is tax deductible.
The Comité Tricolore is working hard to make sure that your participation in our campaigns reaches those in the French-American community who most need our support.
Our beneficiaries are faced with unpredictable, short or long-term problems that are impossible to solve alone. The Comité Tricolore is here for them to accompany them in finding appropriate solutions.

Our Solidarity Committee is meeting regularly to find ways to best address these issues, determine the level of help needed and increase or stop aid as the situation evolves.
This is an ongoing program, every month our treasurer sends checks to families, and it would be a great relief to the Comité Tricolore if you would become a monthly supporter, whatever the level.