Elected members of the Board of Directors
EVE CHAUCHARD
President
evechauchard@gmail.com
Eve Chauchard is the current president of the Comité Tricolore.
She has been an active member of the Francophone community for more than 25 years.
Eve was a volunteer at the FIAFE Accueil in Brussels from 1993 to 2013, and for Washington Accueil Association (WAA) since 2013. She was president of WAA from 2015 to 2019. She worked for 10 years in scientific research.
---
JEAN-PHILIPPE KRUKOWICZ
Vice President in charge of events
jpkruko@gmail.com
Jean-Philippe has been in the hospitality business since 1980. He graduated in 1982 from a culinary school in France finishing 3rd of its promotion. He then worked in several restaurants in France (2 stars Michelin), Switzerland and USA ( Miami, Boston, San Diego and Washington, D.C. ) . In 1996 he opened his company in Washington, D.C, JPK Enterprises inc d/b/a KRUKO selling Kitchen uniforms, small ware equipment and the top brands of the industry for plates, glasses, silverware and Linens.
Jean -Philippe Krukowicz was named President and CEO of Garnier Thiebaut Inc in 2010. He is also the President of HALIFAX MILL, who operates 2 Outlet boutiques in Crystal City in Arlington VA and in South Boston VA
---
YAHNE MIORINI
Vice President in charge of solidarity
Yahne Miorini, former president of the Comité Tricolore, has started her law firm, Miorini Law, PLLC, 6 years ago. She concentrates her practice in estate planning, probate, international tax, and elder law. She has been involved in the French Community for many years. She is still an advisor of the Comité Tricolore's Executive Committee.
She also volunteers in several legal non-profit groups and was named Pro Bono Lawyer of the year by Fairfax Bar Associations in 2006.
---
MICHEL LAUDIER
Treasurer
mlaudier@hotmail.com
Michel has been an active member of the French-American community since 1971. After many years serving on the board of different non-profit associations he has been Treasurer of the Tricolore Committee from 2017 to 2022. He spent over forty years in the restaurant business and is now a real estate agent in the state of VA.
He successively worked in France, Germany, Switzerland and the USA where he has been living in Fairfax County for the past forty five years.
---
CHRISTIANE CICCONE
Secretary
christiane.ciccone@gmail.com
Christiane has been a teacher of mathematics at the Lycée Rochambeau for nearly 30 years and has been active in many French associations of the Washington area for all these years. Elected Advisor to the Assembly of French Citizens Abroad from 2009 to 2015, she defended the interests of her compatriots. As such she was appointed Knight in the National Order of Merit in 2015.
---
ANNIE SEYS
Board Member
I moved to Washington, D.C. from France in 1971 for a career at the World Bank until I retired in 2012.
My involvement in the French/Francophone non-profit community started in the early 80s. In the mid-90s, at the initiative of a French consul, we created the Comité Tricolore (CT) – a society of French, Francophile and French-American associations of the Washington, D.C. area. After serving as president from 2007 to 2012, today I am still a member of the executive committee of the CT. The Alliance Française de Washington, D.C. is a member of the CT where I am currently serving as Vice-President of the Board of Directors, after being President from 2014 to 2019.
---
MARIE-HELENE ZAVALA
Board Member
Marie-Hélène Zavala a commencé sa carrière professionnelle en France dans le marketing et le lancement de produits dans le secteur des assurances et de la gestion de patrimoine. Elle est actuellement directrice des événements et réceptions à l'ambassade et à la résidence de France. Elle a participé à la création du Kids Euro Festival dont elle a été la première directrice et aussi responsable de la coordination du Festival de la Francophonie jusqu'à récemment. Depuis son arrivée aux Etats-Unis en 1998, elle a toujours été très impliquée dans la vie associative franco américaine. Elle a été présidente de Washington Accueil et membre actif du Comité Tricolore depuis plusieurs années.
---
Honorary Chair
CAROLINE MONVOISIN
Consule Générale de France à Washington DC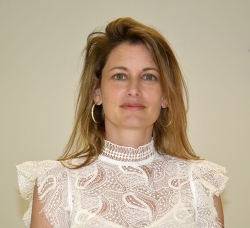 Caroline Monvoisin entered the Ministry of Europe and Foreign Affairs in 2005, where she held a number of editorial positions: first in the Department of French Nationals Abroad and Consular Administration, then in the Department of Strategic Affairs, Security and Disarmament. She then joined the European Union Directorate as deputy director for Germany and Alpine and Adriatic Europe, and head of the Franco-German Mission. From 2016 to 2020, she was Counselor at France's Permanent Representation to the European Union in Brussels, in charge of France's representation in European institutions. From 2020, she returned to the consular field, as project manager (implementation of e-voting for the 2022 legislative elections and the 2021 consular elections), then project manager for the Director of French Nationals Abroad and Consular Administration.
Caroline Monvoisin is a graduate of the Institut d'études politiques de Rennes. As part of her studies, she spent a year as an exchange student at Colorado State University.
---
Members of the Events Committee:
Jean-Philippe Krukowicz, VP
Annie Boutin-King
Hugh Cossard
Yahne Miorini
Marie-Helene Zavala
Members of the Solidarity Committee:
Yahne Miorini, VP
Roselyne Chang
Father Pierre Henri
Raphaèle Holley
Noé Walter
Frédéric Roche
Annie Seys
Past Presidents
YAHNE MIORINI
2013-2019
See bio and picture above
---
ANNIE SEYS
2008-2012
See bio and picture above
---
MARIE-CHANTAL DUMONT
2007-2008
---
VICTOR OBADIA
1997-2007
Victor Obadia was an active member of the French-American community for more than 30 years. He was one of the founders and former president of the Comité Tricolore. He then served as Vice-President and played an integral role in managing events, such as Bastille Day, for the past 10 years. As a result, he was awarded l'Ordre National du Mérite and French Légion d'Honneur, two of the most prestigious awards presented by the French government, for his long-term dedication to building relationships between the French and American cultures in the Washington, D.C. area.
Under his leadership, Mr. Obadia created "Le Club Philosophique Lafayette 1989". He also formed the "Association Américaine de l'Ordre National du Mérite". Victor Obadia passed away on 27 October 2019.
---
General Consuls of France in Washington, D.C. since the CT's founding:
1989-1994 Jean-Yves DEFAY (Founder)
1994-1997 Claude FAY
1997-2000 Alain KEGHEL (Premier président du CT Victor OBADIA)
2000-2003 Gilles MONTAGNIER
2003-2007 Jean-Michel ALLEX LYOUDI
2007-2011 Michel SCHAFFAUSER
2011-2015 Olivier SEROT ALMERAS
2015-2019 Michel CHARBONNIER
2019-2023 François PENGUILLY
2023 Caroline MONVOISIN