Solidarity Dinner at La Chaumière - Georgetown
Tuesday 28 September 2021 from 18:30 to 21:30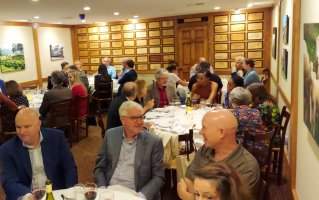 How about enjoying a special dinner prepared just for us by Chef Patrick Moulet of La Chaumière Restaurant in Georgetown? You will also get to meet the restaurant co-owner Martin Lumet.
Pronounced 'la show me air', La Chaumière is as close as it gets to dining in a French country " inn". The unpretentious atmosphere enhanced by the central stone fireplace, wood beams and stucco walls offers a rustic and romantic escape from city life. La Chaumière is celebrating 45 years of true French fare!
Register: Eventbrite- 28 sept Dinner at La Chaumiere
We will dine at round tables seating 8 people.
Your participation will help the restaurant AND the community since the price of the ticket includes the price of the meal which goes entirely to the restaurant plus a tax-deductible donation to the CT which goes entirely to one of our beneficiaries.
40 tickets are available at the price of $ 80 per person, which consists of $ 55 for your meal (tax and tip included, drinks excluded) and $25 as a donation to the Comité Tricolore (larger donations are of course encouraged). The donation is tax deductible.
Vegetarian options are available.
Some COVID 19 sanitary protocols are in place. You will be asked to wear a mask when entering the restaurantand walking around. Please do not attend if you are experiencing any symptoms of COVID-19.