Solidarity Dinner at La Ferme Restaurant
Tuesday 27 July 2021 from 18:00 to 21:30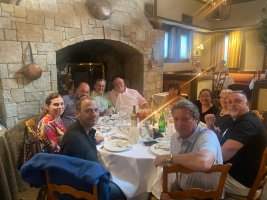 How about enjoying a special dinner prepared just for us by Chef Alain Roussel of La Ferme Restaurant in Chevy Chase, MD?
Cash bar from 6:00 to 6:45 to enjoy La Ferme's great bar. Dinner served at 7:00
Plenty of parking available
Your participation will help the restaurant AND the community since the price of the ticket includes the price of the meal which goes entirely to the restaurant plus a tax-deductible donation to the CT which goes entirely to one of our beneficiaries.
40 tickets are available at the price of $ 75 per person, which consists of $ 50 for your meal (tax and tip included, drinks excluded) and $25 as a donation to the Comité Tricolore (larger donations are of course encouraged). The donation is tax deductible.
Dinner served on the private room located on the 1st floor, accessible via a set of easy steps.
Vegetarian options are available.
Some COVID 19 sanitary protocols are still in place. You will be asked to wear a mask when entering the restaurantand walking around if you are not fully vaccinated. Please do not attend if you are experiencing any symptoms of COVID-19.
Tuesday July 27, at 6:00 pm
7101 Brookville RD, Chevy Chase, MD 20815