Solidarity Dinner of the Comité Tricolore at Brasserie Liberté - Georgetown
Monday 21 February from 18:30 to 21:30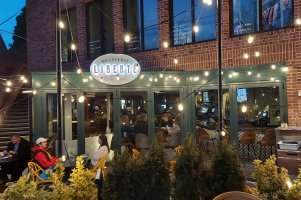 Join us for a delicious dinner at Brasserie Liberté -Georgetown where traditional French meets modern luxury!
"Brasserie Liberté is a modern French destination with an American twist located in the heart of Georgetown. Our menu reflects the comfort food of both cuisines served in a cozy and laidback setting.
In March of 2020, restaurateur Hakan Ilhan called on Matt Cockrell to become the Executive Chef of Brasserie Liberté. Matt brings his French charcuterie talents and advanced knowledge of French cooking to the brasserie. "
Escargots de Bourgogne... Steak au Poivre... Ratatouille.... Crême brulée, these are just a few choices on our especially curated menu. Join us for a nice evening amongst friends of the Comité Tricolore!
Monday February 21, at 6:30 pm
3251 Prospect Street NW, Washington, DC 20007
Your participation will help the restaurant AND the community since the price of the ticket includes the price of the meal which goes entirely to the restaurant plus a tax-deductible donation to the CT which goes entirely to one of our beneficiaries. 34 tickets are available at the price of $80 per person, which consists of $55 for your meal (tax and tip included, drinks excluded) and $25 as a donation to the Comité Tricolore (larger donations are of course encouraged). The donation is tax deductible.
Vegetarian options are available
If you are coming with friends, please let us know so that we can seat you together at the same table. We regroup guests at tables of 6 or 8 unless you wish a separate table. Please let us know.
Covid Crisis: Starting January 15th in Washington DC, in order to get into a restaurant, you need to show a proof of your vaccination.
Parking: There are two parking garages next to the restaurant on Prospect Street NW.
Registration:
https://www.eventbrite.com/e/solidarity-dinner-of-the-comite-tricolore-at-brasserie-liberte-tickets-253404448527
Menu: