Solidarity Dinner of the Comité Tricolore At Convivial
Wednesday 28 October 2020 from 18:30 to 21:30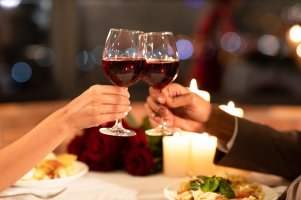 How about enjoying a special meal in one of our great restaurant partners of the Comité Tricolore and getting to meet the Chef while helping the community?
The Comité Tricolore is organizing festive dinners which, of course, respect all of the COVID 19 sanitary protocols.
Your participation will help the restaurant scene in DC AND the community since the price of the ticket includes the price of the meal (carefully thought out for us) which will go entirely to the restaurant plus a donation to the CT which will go entirely to one of our beneficiaries and is tax deductible.As an example, we recently paid the Internet bill of a single mother so that her son can continue his schooling.
Having a delicious meal and feeling good about pitching in for your community — what could be better? You will also get to meet the (masked 😊) chef and some (masked 😊) members of the Comité Tricolore and/or personalities of the French-American diplomatic or social scene.
At these dinner, Eve Chauchard (CT President), Jean-Philippe Krukowicz (CT Vice-President-Events) will be present.
It's fun time again! We look forward to seeing you there!
First date: October 28, 2020 at 6:30 PM
At: Convivial (http://www.convivialdc.com/)
801 O Street NW, Washington, DC 20001
Chef: Cédric Maupillier
20 tickets are available at the price of $71 per person, which consists of $46 for your meal (tax and tip included, drinks excluded) and $25 as a donation to the Comité Tricolore (larger donations are of course encouraged). The donation is tax deductible.
Tables are for 6 people maximum (COVID-19 protocol) and 2 minimum. You will be asked to wear a mask when entering the restaurant and walking around. Your party will be assigned a separate table unless you indicate wishing to join another party.
This restaurant has a nice heated terrace. Vegetarian options are available.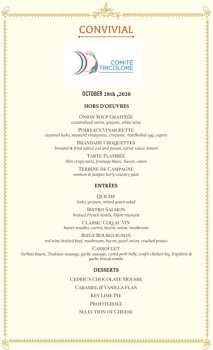 Register on Eventbrite for Convivial on Oct 28 : https://www.eventbrite.com/e/solidarity-dinner-of-the-comite-tricolore-at-convivial-tickets-124752127973
Address
801 O Street NW, Washington, DC 20001