Solidarity Dinners of the Comité Tricolore at Rosemary Bristro Cafe
Monday 7 November 2022 from 18:30 to 21:30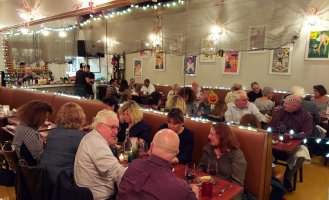 Building atop of French-based cuisine, Rosemary is a multicultural restaurant representative of the dynamism and fluidity of D.C. Our food lives dichotomously – both vibrant and delicate, with fresh ingredients combined for a robust sensory experience. Please join us for a cozy, enriching dining experience.
Rosemary Bistro cafe appeared in the Washington post best restaurants DC in April 2022 : https://www.washingtonpost.com/food/2022/04/25/best-restaurants-dc-april-2022/
Please check below the exciting menu proposed by chef-owner Frederic Darricarrère for our Comité Tricolore Dinner.
Your participation will help the restaurant AND the community since the price of the ticket includes the price of the meal which goes entirely to the restaurant plus a tax-deductible donation to the CT which goes entirely to one of our beneficiaries.
30 tickets are available at the price of $ 91 per person, which consists of $ 66 for your meal (tax and tip included, drinks excluded) and $25 as a donation to the Comité Tricolore (larger donations are of course encouraged). The donation is tax deductible.
If you are coming with friends, please let us know so that we can seat you together at the same table. We regroup guests at tables of 6 or 8 unless you wish a separate table.
The restaurant is situated in NW DC in the Chevy Chase neighborhood.
Details and Reservations:
https://www.eventbrite.com/e/solidarity-dinner-of-the-comite-tricolore-at-rosemary-bistro-cafe-tickets-434211908507
Menu: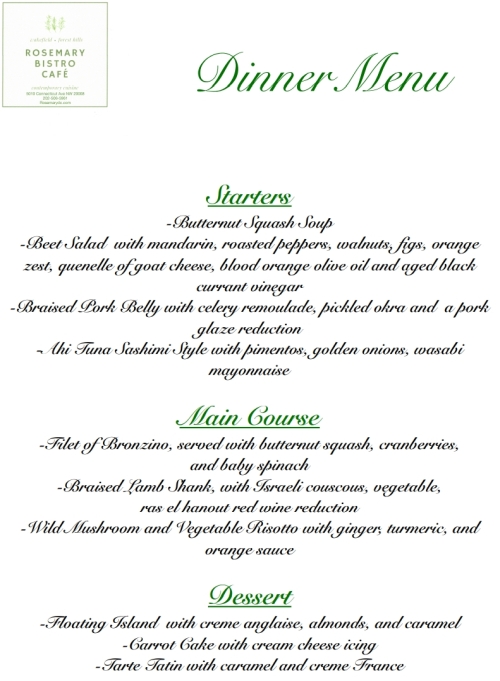 Details and Reservations:
https://www.eventbrite.com/e/solidarity-dinner-of-the-comite-tricolore-at-rosemary-bistro-cafe-tickets-434211908507